Too many pupils have sex in parks'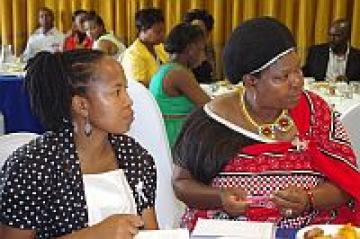 MBABANE - The number of pupils having sex in parks and forests has escalated to alarming levels.
This was observed by popular radio announcer and Lutsango LwakaNgwane Executive Member, Joyce Gama.
Gama was speaking at the Intern-ational Human Rights Day, which marks the end of the 16 Days of Activism Against Gender Based Violence held at Mountain Inn yesterday.

The event was hosted by Gender Links and the Gender Consortium.
"What have parents done towards correcting the behaviour of their children? Children who are at the adolescent stage are having intercourse in parks and forests. I have witnessed some pupils on my way to work having sex in the park," she said. She tasked Non-Governmental Organisations (NGOs) to do something about this.
"This is common and it is disturbing to say the least. Something needs to be done.
"Now schools have closed and pupils will be loitering around. What are parents doing because they should ensure that their children are at home and given assignments so they do not wonder around and do illicit things?" she wondered.
A woman's weapon is her tongue - reverend
MBABANE - Reverend Dalcy Dlamini left participants in stitches when she said a woman's weapon was her tongue.
Reverend Dlamini was speaking at the International Human Rights Day.
"Most women have one weapon and it is their tongue. What usually comes out of the mouth does more harm than good," she said much to the laughter of the participants.
The reverend said men had the tendency to use force to show their power.
She said that was unfortunate because everyone's peace was disturbed in the house because children would be forced to witness the violence and also be forced to take sides.
Reverend Dlamini said if partners could communicate, there would be peace in the family, as such, Swaziland and other countries would not struggle in the fight against GBV because of the peace and stability that would prevail in the respective families.
"Statistics have proven that most women are raped in their marriages in the name of being the man's property since he paid lobola. Some are violated because they depend entirely on the man," she said.
The reverend noted that emotional and religious violence were the most common forms of abuse because they left an indelible scar in the person's life.
She urged families to have love, respect and communication, which she said were key towards the fight against Gender Based Violence.
'Qalakaliboli is off the mark'
MBABANE - CANGO Director, Emmanuel Ndlangamandla has said Times SUNDAY columnist Qalakal-iboli is off the mark.
He was speaking during the commemoration of International Human Rights Day held at Mountain Inn yesterday.
"To say that women are the worst abusers is unacceptable. We are calling this Qalakaliboli to order. Gender Based Violence is common in the country. Each day, we read newspaper headlines with shock.
"Today (yesterday) we read with shock about men who had sex with a nine-year old. This could be your child or it could be mine," Ndlangamandla said.
He said it was unacceptable to draw examples from America and localise them yet such was inapplicable.
Before he made his remarks, the CANGO director asked participants to observe a moment of silence in respect of people whose rights continued to be violated.
"The level at which women and children's rights are violated is disturbing.
"Then you wonder when will this come to an end," he said.
He called for quick action to eradicate the scourge of GBV.
The Times SUNDAY columnist declined to comment and said a statement should be issued first by CANGO.
Times ME questions allegations
MBABANE — Times of Swaziland Managing Editor, Martin Dlamini has questioned NGOs' allegations that there is no political will from government to curb Gender Based Violence.
Dlamini asked the question during the question and answer session with the media at the Commemoration of the International Human Rights Day held at Mountain Inn yesterday. Dlamini was reacting to a statement made by Women and Law Southern Africa (WLSA) Director, Zakhe Hlanze, who said government had no political will towards the realisation of gender issues.
"Could you clarify your point? What is the stumbling block regarding the political will because we get statements from government supporting gender issues?" the Times ME asked.
In her response, Hlanze said the lack of political will meant that there was no legislation addressing Gender Based Violence. She acknowledged that there was the Sexual Offences Bill, which however, had not been put in place.
"Perhaps, if the legislation had been passed, it would have gone a long way in curbing Gender Based Violence," she said.
The Deputy Prime Minister's Gender and Family Issues Unit Director, Nonhlanhla Dlamini, said the statement made by Hlanze was too strong.
"Government is doing something about such issues. Rather, it could be said that these things are done at a snail's pace. In the wake of the economic recession, government has been obliged to focus on economic reforms. Lack of finances has affected all SADC countries," she said.
Times of Swaziland supports gender equality - ME
MBABANE - The Times of Swaziland has made great strides in support of gender equality.
This was shared by this publication's Managing Editor (ME), Martin Dlamini, at the International Human Rights Day held at Mountain Inn.
"Six women are occupying managerial positions at the Times which accounts for 51 per cent," Dlamini said.
He thanked the organisers for the enlightening sessions.
Dlamini said despite being aware of gender issues, he noted that the forum provided a chance to learn new things about the subject.
Dlamini also asked what yardstick, or measurement, was being used to qualify that men were misogynistic as said by SWAGAA Director, Cebile Manzini.
"How do you measure the extent of this? Do you measure it by using one article written by one person?" the ME asked.
Manzini said studies and surveys, which had been conducted, discovered that some men hated women.
"It should be noted that there are few misogynists, but they have the platform to express their views. And there are many men who are not misogynists, but they do not have the platform to express their views. I think we need more of these men to have the platform for advocacy," she said.
Manzini further asked the media to help in the fight against GBV.