British PM listens to Swazi exiles'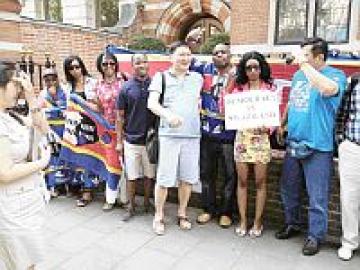 MBABANE – David Cameron, the Prime Minister of the United Kingdom (UK) has promised unhappy Swazis living in his country that he will act on their concerns regarding mistreatment by the Swazi government.
This is arguably the very first time a sitting PM in the UK has given an official response to a petition from Swazi protestors.
About five months ago, the Swazis calling themselves 'exiles' asked Cameron's office to put pressure on Swaziland to allow political reforms.
Cameron had been asked to help Swaziland to democratise and allow political parties to operate freely.
He was further petitioned to ensure that Swaziland respected freedom of the press and the rule of law. This is contained in a letter and petition written by a group of Swazis who live in the UK.
The group of 'exiles' asked Cameron to facilitate the suspension of Swaziland from the Commonwealth until human rights were implemented.
They identify themselves as the Swaziland Vigil group.
Swaziland Vigil holds regular demonstrations outside the Swaziland High Commission in London located at 20 Buckingham gate, in protest at alleged human rights abuses in Swaziland, among other things.
They carry placards with various slogans denouncing the Swazi government.
The group petitioned the British PM in May but they say they only received a response a few weeks ago.
"Exiled Swazis and supporters urge you to put pressure on (the Swazi government) to allow political freedom, freedom of the press, rule of law, respect for women and affordable AIDS drugs in Swaziland," reads the petition in part.
The petition was allegedly signed by the exiles and sympathisers of the group.
Cameron's office responded to the petition, saying it would forward both the letter and petition to the Commonwealth office to make them aware of the group's concerns.
In a letter dated May 12, from Cameron's Direct Communications Unit, the PM's Correspondence Officer who only provided a signature and no full name, said, "I have been asked to forward your letter and petition to the foreign and Commonwealth office, so that they too are aware of your views."
This newspaper is in possession of a copy of the letter.
The Swaziland Vigil also wrote a letter to Her Majesty Queen Elizabeth II.
"We are a group of Swazis driven into exile because of the arbitrary behaviour of government," reads their letter in part.
"In Swaziland women with HIV are reduced to eating cow dung because they do not have food yet they must have something in their stomachs for the anti- retroviral medicine they must take," reads the letter. They said political parties and political activity remained banned in the country such that people were left without a voice. "We stage a regular protest outside the Swaziland High Commission just down the road from Buckingham Palace.
We realise that your hands are tied by protocol and wish to assure you that the protests we plan are against the government of Swaziland," they said. They asked her, as the 'Mother of the Commonwealth', to take action so that "we can return home in freedom to a democratic country observing international human rights." Tintswalo Ngobeni, spokesperson of the group also said she had an opportunity to speak about Swaziland problems to the British Parliament.
She said in her speech, she mainly highlighted problems faced by Swazis in their own country and also about lack of opportunities especially for the youth.
The meeting was organised by Action for Southern Africa (ACTSA), a well-known human rights group.
In an interview Ngobeni, who hails from Manzini, said their unhappiness stemmed from the fact that it appeared that the British monarch condoned what was happening in Swaziland's political landscape. "We recently received a response from Cameron and we are happy that he recognised our concerns and accordingly responded. We hope action will now follow to help Swaziland democratise," she said. "We value his response because it is very rare that you receive a reply from the British government, especially on such matters."
"Our aim is to be heard. We want government to belong to all of us as Swazis and we do not want the Tinkhundla system of governance."
Let them come home – Mtiti
MBABANE – Mtiti Fakudze, Minister of Foreign Affairs and International Cooperation, says the Swazis who hold public protests at the Swazi embassy in Britain should come back home.
He said these citizens were stranded and probably lacked funds to purchase tickets they would use to fly back to Swaziland.
Fakudze said there was no need for them to panic and reduce their status to beggars in a foreign country when they had their own country which was peaceful.
"Why would you want to be a refugee when you have a great country like Swaziland?" he wondered.
The minister said Swaziland was full of opportunities and was ready to welcome them back.
He said Swaziland does not have people in exile.
"We have said it before. Swaziland is a peaceful country where we all live in harmony," he said.
The minister said the country was not bothered by the protest action at the UK embassy.
He said if there was something they were not comfortable with in the country, the protestors should come and have it addressed through available structures.
"We cannot allow Swazis to go on exile when their problems could be amicably resolved here," he said.
He said government was working hard to avail job opportunities to the nation and if they come back they would be integrated into the country's employment sector.
The minister did not want to comment specifically on the fact that the UK Prime Minister's office had received and responded to a petition from the Swazi 'exiles.'
He insisted that the Swazis should just return home.
---
COMMENTS:
- I wonder who the Swaziland govt is fooling.Where are the jobs they are talking about?The Swazi govt is so broke it can't educate it's own citizens.I say forward to those who are exposing the rotten govt,and don't let empty and demeanizing words back you down. If there was peace there wouldn't be police to beating up people who wanted to organize peacefully( ie SNAT).The Swazi TV media may not show these violent protests but free western media does broadcast what goes on there.We've witnessed that as far as north America where we are exiled.
October 20, 2012, 5:00 pm, zandile
- Ignorant: not ashamed - very typical tinkhundla beneficiary .By the way our jobs in the uk are by merit not by favour .Definately not stranded and we can afford return tickets to sd as visitors because .The world knows clearly ,sd is saddenly doomed .
October 20, 2012, 5:00 pm, michelle lee
- Awume Mtiti babuye ekhaya batowentani batotihhamula? Awume. Iconstitution is not respected, bantfu bete livi, no freedom of association Mtiti awume, bantfu badla bulongo, tikolaship tinemehlo, emaholo eme njalo bantfu baboshelwa kutsi bagcoke tikipa lebatitsandzako. Umnotfo welidlandzana bomsawabani. Bantfuu nabatsi bayakhuluma bayaboshwa babitwe ngetidlamlilo. Babuye batobulawa maphoyisa awume Mtiti usengakacali kukhuluma, kuthula kute people are made to suffer silently and you call that peace Mtiti?
October 20, 2012, 5:00 pm, Happiness Malambe