110 teachers fired!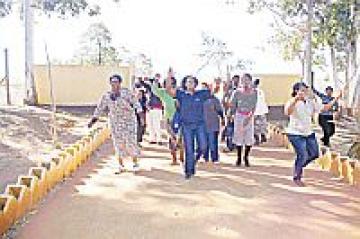 MBABANE — Government has fired at least 110 teachers for participating in the teachers' indefinite strike and for failing to heed its call to return to class.
The teachers were served with dismissal letters yesterday.
Teachers under the Swaziland National Association of Teachers (SNAT) embarked on a strike action in June in a bid to force government to accede to a 4.5 per cent salary increment.
The strike lasted for five weeks until it was suspended for three days on Sunday evening.
It resumes again today, it was announced last night.
During the course of the strike action government obtained two court orders branding the strike illegal and calling upon the teachers to return to their work stations.
The teachers defied both court orders.
Government eventually issued a warning two weeks ago calling upon all teachers to report to their work stations on Tuesday, July 24.
The Principal Secretary in the Ministry of Education and Training, Pat Muir, said teachers who failed to heed the call would face disciplinary action.
The Teaching Service Commission (TSC) also issued a statement last week calling on all teachers to report to work on Monday.
Since the beginning of this week, government has been sending inspectors to schools to check whether teachers had reported for duty.
Wilson Ntshangase, the Minister of Education, yesterday disclosed that so far 110 teachers have been fired for not teaching between Monday and Tuesday.
The list of the sacked teachers is set to increase as the data of teachers who did not conduct lessons yesterday was still to be collated when the minister released this figure.
"They have been fired with immediate effect," Minister Ntsha-ngase said yesterday.
The minister continued: "Forty teachers were found not working on Tuesday in the schools countrywide yet there are more than 70 teachers who did not teach on Monday."
Ntshangase acknowledged that their expulsion would result in a crisis in schools.
He said there was a pool of jobless graduates who needed teaching posts.
"Teachers who have just finished their studies in the country's tertiary institutions, University of Swaziland, William Pitcher Teachers Training College, Ngwane Teachers College and Nazarene will fill the posts," he said.
He said the change of teachers in the middle of the year would have negative effects on the pupils but said there was nothing they could do since teachers have remained adamant.
"I foresee a huge challenge in finding teachers for Sciences and Mathematics. Perhaps Agriculture teachers will be roped in to teach these subjects," he said.
The minister said the TSC had already started a process of hiring new teachers to replace the fired ones.
All Masundvwini Primary teachers sent packing
MBABANE — Masundvwini Primary School's 15 teachers were all fired yesterday together with their deputy principal.
Only the principal remains in the school.
The teachers were served with the dismissal letters yesterday morning.
Swaziland National Association of Teachers Secretary General Muzi Mhlanga, confirmed the figure.
On Tuesday, this newspaper reported that the 15 teachers in this school were found engaging in a sit-in by inspectors on Monday.
Teachers monitored by chiefs
MBABANE — Chiefs and headmen are also monitoring teachers who do not perform their duties.
This was revealed by the Minister of Education and Training Wilson Ntshangase yesterday.
Chiefs and headmen were roped in by Prime Minister Sibusiso Dlamini during the opening of Jericho Police Post in the Shiselweni region last Friday.
Dlamini said chiefs and other traditional structures should take the initiative to report teachers who were found not teaching.
"Chiefs are now reporting teachers who do not teach. My advice to teachers is that they return to class," the minister said.
---
COMMENTS:
hu do they think will suffer most from these actions? y do they still undermine the nation. and to mr minister thank sir for being so foolish. may you not sleep at night for what u r doing to the nation
December 8, 2011, 2:01 am, jesus (2345@yahoo.com)
Makhalempi uwatsatsaphi emandla ekucosha bothishela? GIVE TEACHERS WHAT THEY DESERVE NJE.
December 8, 2011, 2:00 am, Comrade Scebos

It sad that such decisions had to be made which in my opinion is way out of line. Threatening and firing tactics won't last and is not a viable solution. Such decision will come back to huant government. Government should be aspiring in working together with people not to fight or resist them. Mind you the teachers have families to support. No job equals to high crime rate. Good luck to Sibusiso and his team.
December 8, 2011, 2:01 am, Rempum (rempum@yahoo.com)
all i cn say is, zithini izizwe. cum on, let's gt our act 2geda n giv da world a reason 2 believe in us, agen. Dis is clearly nt da swaziland, i knw. der's stil hope, let''s work on it, in order 2 ensure dat progress is made n we may b able 2 create a beta future!
December 8, 2011, 2:01 am, Martin Ndlela (www.martinsihlangundlela@gmail.com)
for one second just use your brains to think.its not about your selfishness its about the poor little souls.you are making it even much worse for the kids even if you were to hire teachers now they are already affected.think people
December 8, 2011, 2:01 am, linda (swelinndz@gmail.com)
Makhalempi, the problems faced by teachers are still there, whether you fire them or what. To bring new teachers at this stage of the year shows lack of logical thinking on your part. The King has summoned the nation to the cattle byre and you are busy firing teachers, what a shame. History will judge you harshly and you will be remembered as the minister who failed to take a clear stand on any issue.
December 8, 2011, 2:01 am, Banele (gudlizintaba@yahoo.com)

Should government also impose curfews around the country to curb the spread of COVID-19?