Absent teachers now to be fired!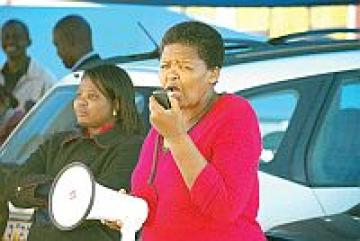 LOBAMBA – Teachers who will still be on strike by July 26 will be fired, government has sternly warned.
Speaking in Parliament, Minister of Education and Training, Wilson Ntshangase, said government intends to give striking teachers a final ultimatum to return to work or lose their jobs.
This would be in line with Section 36(1) of the Employment Act, which allows the employer to terminate the services of an employee who has absented themselves from work for three days in succession with no valid reason. "We intend to issue a warning first about this and then implement it, if nothing changes.
We will start with the principals who have taken to the habit of locking schools so that learning does not take place," said the minister.
He admitted that he was aware of the possibility that it could fuel the already volatile situation which has seen teachers on strike for four weeks now as they demand a 4.5 per cent salary increment from government.
"Yes it's fuelling the situation, but at this point how can you control it? The striking teachers have become too volatile. It's no longer about a 4.5 per cent salary adjustment, it's about something else," added Ntshangase.
Meanwhile, Minister of Labour and Social Security Lutfo Dlamini told the House of Assembly that Section 88 of the Industrial Relations Act stated that workers who had engaged in an illegal strike stood to have their services terminated.
The Principal Secretary in the Ministry of Education and Training, Pat Muir, also issued a statement later yesterday stating that 'as a final warning' all principals, their deputies and teachers who were participating in their strike had to be at their work stations on or before July 24.
"All principals and deputies are urged to ensure the filling out of forms that indicate whether or not teachers are at work and duly executing their duties. These forms must be submitted to the Regional Education Offices on July 26, 2012," Muir said in the statement.
He said thereafter, disciplinary action would be taken against teachers who continued to defy government's directives.
"Government will invoke Section 88 of the Industrial Relations Act, 2000 as amended, Section 36 of the Employment Act of 1980, Teaching Service Regulations, and many others," Muir said.
Salary adjustment will cost govt E240m
LOBAMBA – The 4.5 per cent salary adjustment wanted by civil servants will cost government E240 million per year.
Minister of Labour and Social Security Lutfo Dlamini said this would inflate the already huge wage bill of E3.4 billion per year.
There are currently 38 000 civil servants and any increments would have to be implemented across the board.
Dlamini said the E240 million salary adjustment would end up being E260 million, including other expenses like overtime and allowances.
"A salary increase or adjustment of 4.5 per cent was never budgeted for by government. A loan for such cannot be obtained because international institutions do not give out cash for personal gain," said Dlamini.
No-work-no-pay effects disastrous for country
LOBAMBA – The effects of the no-work-no-pay rule implemented by government will be disastrous for the country.
Many MPs expressed fear about what would happen from tomorrow when many teachers find that their salaries have been slashed. Nhlambeni MP Frans Dlamini said this was especially because even teachers who did not strike might find their salaries slashed.
"Some of the teachers whose salaries will be deducted by mistake have bills and bank stop orders, so who will pay the penalties they will suffer when there is close to nothing in their accounts?" wondered the MP.
Ngwemphisi MP Veli Shongwe said the worst was still to come because 'a hungry person is an angry person'.
---
Comments
A hungry man is an angry man. Watchout, something worse than a volcano will errupt this weekend as most of our learned comrades will find their monthly peanuts cut!
Jul 19, 2012, 6:30 AM, Zwelabo (Zwema.canco@hotmail.com)
Kumntfwana lokhala ngendlala ungakwenta yini loku; kumshayela kutsi usho lani kutsi ulambile?; ubese awusamphakeli kona loko lokuncane?; udzimate umcoshe ekhaya? My qstn is 'DO WE STIL HAVE WHAT WE CALL GOV IN SWAZILAND?'
Jul 19, 2012, 6:30 AM, Msandrise (msandie@gmail.com)
Its very interesting to see that even MP's could see the disaster that is to come if this no work no pay thing can be implemented; but it also suprises cause we dont hear them giving out a solution to this; Lutfo must do his home-work for this let him ask for help from the AG and other legal advisers on this matter.
Jul 19, 2012, 6:30 AM, Mehlwengwadla Nkonyane-Mahikeng 2745 (mduduzi78@yahoo.com)
Am no economist but does it make any sense that Circular 1 can be implemented but when it comes to a meagre 4.5% the IMF is quoted? How can everything go up by 14% VAT and then no salary increments? We were struggling before this and what more now? But what irks me more than ever is to have that Circular 1 business vs the 4.5% which for some Swazi's might just be E50.00. Justify Mr. PM to the IMF that despite their recommendations you increased your own personal earnings and now want everyone to remain frozen where even hand to mouth is no longer feasible. Kumnandzi kuphi kungaholi? We're not taking to the streets because we're thoughtless hooligans but much as some of us dont understand the politics of economics, the fat are getting fatter by feeding off the hungry. Nobody deserves this kind of treatment in their own country!!!!
Jul 19, 2012, 10:57 AM, Lindiwe Dlamini (lindied@yahoo.com)
Is this world coming to a standstiil or what!!!!! Yini lebuhlungu nje ngekunika labantfu indlebe and just listen. It doesnt hurt at all they are crying for what they believe is due to them balaleleni and bese niyaphendvula. Simple hayi lokuba bo somandla because you can. Listen you are where you are today because one day there was a teacher eme ephambi kwakho. At least show kutsi you are doing something abt it hayi lentfo yabo Ntjangase labadlala kuba bo God.NGUKUPHI LA!!!!
Jul 19, 2012, 12:13 PM, Linda (swelindz@gmail.com)
Government, on one hand you are subjecting the citizens of Swaziland to abject poverty through an inhumane tax regime, the VAT, no increments for the next three years, heavy fines, etc. while on the other hand you are spoiling yourself with circular No.1 of 2010. You have several times been advised to cut on labour, but you are increasing ministries that we do not know what they are for - Ministry of Tinkhundla, Ministry of Sports and Culture. Are you not ashamed of yourselves, why are you blaming 'people with personal vendettas' for the apparent fall of Swaziland? The Sibusiso-led government (not of the people) is probably the worse thing that has ever occurred in the country - worse than the catastrophes that have befallen the country before (Zamcolo, the droughts, etc). Only a government of the people, by the people, and for the people will save our beautiful country! Viva Democracy, viva!!!
Jul 19, 2012, 4:38 PM, Sicatfulo (nsgwebu@hotmail.com)
Its so unfortunate that the government is failing to engage SNAT and forge way-forward on the strike action. Targeting teachers as individuals will not bring solution but will rather add fire into this issue since there will be minimum evidence to prove if teachers report at work. The ministry of education has been failing to conduct regular spot checks on schools to improve learning due to financial constraints, im now wondering if they have capacity to monitor the No Work No Pay exercise. Personally, I feel like government will waste a lot of money on security during this strike period, in which should be avoided by simple yielding to civil servants demand
Jul 19, 2012, 4:38 PM, Nathie Nxumalo (nathienxumalo@gmail.com)
How much are you planning to spend on Christmas gifts and festivities this year?