Teachers' salaries chopped by 33%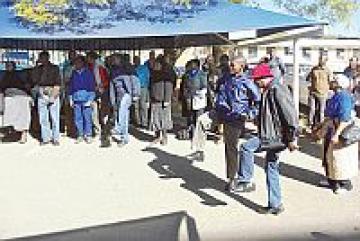 MBABANE – Government has cut teachers' salaries by 33 per cent.
As of yesterday afternoon, government had already begun to run the payroll for teachers and the no-work-no-pay rule effected on their salaries.
However, the teachers whose salaries have been cut are members of the Swaziland National Association of Teachers (SNAT) who have been fully participating in the indefinite Waya Waya strike which has now entered its fourth week.
Non striking teachers' salaries have not been slashed.
Most teachers will know whether their salaries have been cut or not when they check their bank accounts on their paydays which are Friday and Saturday.
The Times can exclusively reveal that prominent SNAT member Dominic Nxumalo, the Principal of St Mark's High School, will receive the lowest pay and take home E21.49 as his nett pay.
Documents in possession of the Times reflect that government has deducted E5 593.61
from Nxumalo's salary under the no-work-no-pay column.
Nxumalo's basic salary is E16 780.83 but his nett pay usually stands at E5 615.10 after total deductions of E12 149.73.
Calculations indicate that the E5 593.61 deducted by government for missing work during the strike from Nxumalo's salary is 33 per cent of the total pay.
Nxumalo is one of the SNAT members who have been at the forefront of the teachers' strike.
He has been seen mobilising teachers from the Hhohho region and has been very vocal at SNAT meetings during the strike.
Nxumalo is also cited as one of the respondents in the case where government wants 19 SNAT members jailed for 30 days for defying a court order which was intended to stop the strike.
SNAT President Sibongile Mazibuko will have to survive on a salary of E680.30 this month after her E5 544.10 nett pay was cut by E4 863.97 for her participation in the strike.
Mazibuko's basic salary is E14 591.92 but after deductions she takes home E5 544.10. Her deductions amount to E9 853.27.
Another SNAT member who has been hit hard by the cuts is Solomon Mabila.
Mabila whose basic salary is E14 591.92 has had his salary cut to E960.65.
Mabila's nett pay is usually E5 824 after E8 767 is deducted from his salary.
However, government has cut E4 863.97 from his usual nett pay in respect of no-work-no-pay.
SNAT Secretary General Muzi Mhlanga has had his salary cut by E3 757.08 in respect of the no-work-no-pay rule.
Mhlanga who usually takes home E5 214.89 as his nett pay will take home E1 457.81. Mhlanga is paid under scale C5 notch 5 and his basic salary stands at E11 271.25
Meanwhile, Simangele Mmema will be paid E1 565.97 this month after her salary was also slashed.
Mmema has had her E6 429 usual nett pay cut by E4 863.97.
In total, government has saved E23 942.60 from the five SNAT members mentioned above.
It has been gathered that government deployed inspectors to various schools countrywide who were collecting the data of teachers who were present and those who were absent from school.
It is suspected that government used this data to determine the number of days absented by the teachers during the strike.
---
Comments
Ths government is totaly unfair how can u put out fire wth fire? The PM has failed he must be arrested for this act
Jul 18, 2012, 2:37 AM, Mantini
Hulumende udlala ngemlilo phansi kwendlu yetjani...will they be able to control the fights after this?
Jul 18, 2012, 2:37 AM, Joseph (mcebonkambule@ymail.com)
This is intimidation at its highest order. It encourages stomach politics.
Jul 18, 2012, 2:37 AM, Intimidated
Uyabo!!! Ngumsindvo wodvwa kelo. Impi seyifikile ekhaya eSwatini. Gazi itawulamulwa ngubani? Kwangatsi siyakhohlwa kutsi we are what we are today bcos of the teachers, then why do this to them.
Jul 18, 2012, 2:37 AM, Zinhle (zinhlemavuso@gmail.com)
It hurts!!
Jul 18, 2012, 9:03 AM, Concerned citizen (Mangalisomsibi@yahoo.co.uk)
I wonder what will happen then to the money saved. It will go straight to the 80 million drain or should i say hole.
Jul 18, 2012, 9:03 AM, Mthi (mthiyanestd@ovi.com)
Government does not care about the future and education of the ordinary Swazi Citizen. Anyway, I understand why they don't care. The fat cat's children do not attend the schools for the low class. How you expect a hungry teacher to administer lessons.
Jul 18, 2012, 9:03 AM, T. Khumalo (thokozanik74@gmail.com)
This is really unfair. ngani naku telega emasotja nemaphoyisa this is not done is because bothishela abatiphatsi tibhamu. this is not a way of solving problems
Jul 18, 2012, 9:17 AM, Phetsile (pix.dibo@yahoo.com)
I cannot say this government is sick because there is no government @ all. whosoever came with this plan has to be admitted @ the physchatric centre.
Jul 18, 2012, 9:45 AM, smega (141051@uniswacc.uniswa.sz)
I'm not surprised. Why is His Majesty quiet? Isnt he unhappy about what is happening in the country?
Jul 18, 2012, 9:45 AM, lovers (lovers@gmail.com)
All we can do is hope that God can help Swaziland for with da anger and hatred we are already at war.
Jul 18, 2012, 9:45 AM , sjuncele (sjuncele@gmail.com)
I am still in shock! Kusho kutsi ke, effectively, the teachers reasonable demand for a 4.5% increment in their salaries has resulted in 33% decrease in their net pay. Njani? Lord help us.
Jul 18, 2012, 9:45 AM, Gugu Phiri
I am a PL 1 teacher with 6 years of experience in SA and I get R25000 per month, A principal with a lot of experience gets about E 17 000, Ha! I wonder what the police are getting. Teachers need not to be divided by this old fashion tactic of no- work - no pay which will only apply to some and publishing of others salaries on newspapers; it is only intended to scare them. They need to fight the system together with what ever they have; they have been underpaid for many years what will 33% change today. The struggle must continue!!!!
Jul 18, 2012, 9:45 AM, thulani (masukumt@galmail.co.za)
Bentiwani koja labothishela yenkhosiyam'. My heart is really bleeding about this issue. Labantfu laba banema degree nema PGCE labawafomela but batfunyelwa ngalama dropouts lama phoyisa, lehlulwa sikolwa. PM, I wish you rot and burn in hell. Wena Future ke angazi uzawenjani ngoba i term of office yakho izawuphela and mele ubuyele esikhundleni sakho sokuba wuthisha.
Jul 18, 2012, 9:45 AM, Mfulongashi
I wonder where d present PM will be in d new democratic SD, its clear dat we headin there. I blive he deserves to rot in jail
Jul 18, 2012, 4:50 PM, Msandrise (msandie@gmail.com)
You know one wonders what the country will be in the next coming years.Thinking of the poor kids who's future is at stake,breaks my heart. Im very embarrased of being a Swazi at this moment.
Jul 18, 2012, 4:50 PM, Malamza (Malamza19@ovi.com)
Is education still a priority in this tiny kingdom? NO! I dont think our government is led by conceptual skilled men but kugcwele tidli-nje.
Jul 18, 2012, 4:50 PM, Stan-lee Mvela-sir (Mthembustanley@gmail.com)
This just goes to show kutsi pple don't learn from history. you can manipulate a person in any form but once you start messing with their source of bread- Ususa irevolution lengayi emuva. Animal farm is an axample of such. Change is imminent vele,but nasekuso, kubi mbamba. if you are taxing pple bo14% kepha imiholo ingakhuli, yidaylight robbery phela leyo. uma kutsiwa imali kute kepha labo bantfu making such claims are getting double salaries and travelling like its going out fashion, luntfu lutsini vele? kuthulwe? Yebo singemaSwati siyahlonipha kepha loku? kutoze kube ngunini nithulile. what future are we to have as a Swazi nation if we don't question the way things are done? uma ngabe kutsiwa lelive is for a few, kutolunga yini nasesihambe sonkhe and live them to it? Lendzaba lena yindze.
Jul 18, 2012, 4:50 PM, Phumzile (phumiemkn@yahoo.com)
Can government please give teachers what they want coz now sekuhlupheka natsi sibatali. Salary cuts is not a solution instead umsindvo uyaphambili ngaloku.And we should consider how the battle of the cowshed started [animal farm] and laveni sifuna kuthula.This situation is declaring wa r[pay-cut].
Jul 18, 2012, 4:50 PM, ndumiso dlamini (ndumiso.dlamini@innstaff.co.za)
Eyi loku sekubi phela coz teachers are also parents what about their children, batodlani, sebavele bezama kushisa lelive labaholi.If kids start to loot because of hunger,who is going to blame them? Somebody is pushing for this to happen. Hey help before the whole Nation perishes. Akusekho lohlakaniphile to solve this easy issue?
Jul 18, 2012, 4:50 PM, Teeza Seko (eteeza@yahoo.com)
Ngabe iyozala nkomoni
Jul 18, 2012, 4:50 PM, N.D
In this world everything comes to an end or expires,even in Biblical times Pharoah's Kingdom came to end, this is a sign that the Kingdom is coming to an end, and if I was the king i was going to shift from the Tinkhudla system and allow what the Swazis need, in good time(kusesekuhle). S.N Hlatshwayo (Bloemfontein).
Jul 18, 2012, 4:50 PM, Ntsikie Hlatshwayo (bengs@galmail.co.za)
Is it wrong to change a woman's surname to that of her husband without her consent?