MTN demands E850m from SPTC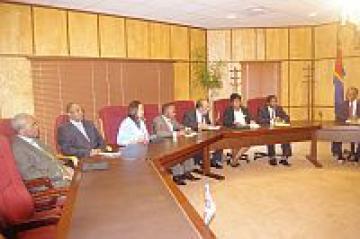 MBABANE – Swazi MTN intends filing a demand of a maximum E850 million compensation from the Swaziland Posts and Telecommunications Corporation (SPTC).
The latest claim is to be filed at the International Court of Arbitration and the International Chamber of Commerce, who are expected to have received a copy of the new demand.
This is in respect of SPTC having breached the Joint Venture Agreement (JVA) between the two telecommunications giants. The minimum amount that MTN could demand is around E400 million.
Both these amounts are amended claims to what Swazi MTN initially wanted from SPTC and reliable information availed to this publication is that the mobile telecommunications company had originally demanded less than E70 million compensation from the corporation.
Claims
Impeccable sources told the Times newspaper that the latest amount of between E400m and E800m is based on losses that Swazi MTN claims to have suffered when SPTC decided to operate a business that would compete with the mobile telecommunications company, which was against the JVA.
This was when SPTC decided to embark on its much-publicised and affordable mobile components including ONE, Fixedfone and other associated products that were seen as competing with Swazi MTN.
So popular were the SPTC products, thousands of customers purchased them and many households had the wireless Fixedfone.
At one time, it was reported that there were 50 000 fixed-wireless customers, 14 000 ONE mobile phone customers and 10 000 users of mobile internet dongles.
On the amended claim, Swazi MTN has indicated that because of this, it suffered a 'loss of subscribers' and for this it says it lost E137.3 million.
Secondly, Swazi MTN says it suffered a 'loss of revenue basis' which it claims ranges from E141.8 million to E534 million.
Thirdly, Swazi MTN says it suffered a 'loss arising from the operations of the ONE network' which it calculates to amount between E72.4 million and E101 million.
Loss
Fourthly, Swazi MTN says it suffered a 'loss of potential subscribers' which loss it calculates to be between E57.6 million and E80.6 million.
When adding the minimum amounts they total E409.1 million while the maximum amounts are E852.9 million.
The latest demand by Swazi MTN comes at a time when the two companies are engaged in negotiations with each other on how to resolve their differences.
The negotiations are in three fold; management level, Board level and government level.
Late last month, Swazi MTN CEO Ambrose Dlamini told journalists during a media breakfast meeting that the decision by SPTC to launch mobile telecommunications services cost his company a lot of revenue.
Even though he did not quantify the amount, he said they would be seeking compensation from SPTC for the loss incurred.
SPTC gets five-day ultimatum
MBABANE – A five-day ultimatum has been given to the Swaziland Posts and Telecommunications Corporation (SPTC) to respond to the amended claim by Swazi MTN.
"Should SPTC wish to oppose the latest demand, then it has been advised to notify Swazi MTN and the arbitrator within five days of having received the new application," an impeccable source said.
The claim was signed by Magagula & Hlophe Attorneys on July 10, 2012 and received by Maphanga Attorneys on July 11, 2012. This means that by the end of this week, SPTC should have responded.
We can't afford it - SPTC
MBABANE – The Swaziland Posts and Telecommunications Corporation (SPTC) has indicated that it would never be in a position to pay E800 million compensation to Swazi MTN.
Arthur Ngcobo, the acting Board Chairman at SPTC, said the amount demanded by the telecommunications company was exorbitant and almost equal to the asset value of the corporation.
"Under normal circumstances, this is a lot of money. It is almost equivalent to the asset value of SPTC. This money is too much. SPTC can't afford to pay such," he said.
An impeccable source said the value of the 41 per cent shares that SPTC holds at Swazi MTN were also valued at around E800 million.
"It could be no coincidence that Swazi MTN now wants an amount that is similar to the value of the shares," the source commented.
Ngcobo, however, could not state how much the shares were worth.
On the other hand, he indicated that he was not yet aware of the amended claim by Swazi MTN because the Board had not yet been briefed.
"Maybe the Board secretary is yet to inform us. The communication is normally given to the secretary who then informs us. For now we haven't been informed officially. I am going to ask the secretary about that," Ngcobo said.
Mystery surrounds increase in claim
MBABANE – Mystery surrounds how SPTC representatives in the Swazi MTN Board allowed the latter to amend the initial claim and increase it by over 400 percent.
SPTC has four representatives in the Swazi MTN Board where the amendment is expected to have been made.
When Arthur Ngcobo, the SPTC acting Chairman of the Board, was asked if their representatives were aware of the amendment and what action they took, he said: "Ordinarily, they should be aware of this but I cannot speak on their behalf. Yes, they have been appointed by SPTC into the Board but they are Swazi MTN Board members."
Sources said it would be interesting to know what the SPTC representatives said when the amendment was made, if it happened at Board level.
"They are supposed to safeguard interests of SPTC on the Board and therefore it is vital to know where they stand with this amended claim," sources said.
Previously, the SPTC Board had to withdraw its representatives from the Swazi MTN Board because it was felt they were not serving the interests of the corporation.
This was after Swazi MTN took SPTC to court over violation of the Joint Venture Agreement. It was felt the SPTC representatives should have vetoed this decision if they were truly servicing interests of the corporation.
---
Comments
Embarrassing is the word that one can use to sum up MTN's behaviour. To think that a huge multinational is all up in arms fighting competition is plain right embarrassing. MTN has had a field day for 12 years milking the Swazi nation of their hard earned money, and now they want to shut down competition. If there was a properly functioning government in the country they would be demanding back that licence from MTN. Unfortunately they can't because the "big paws" are all over businesses in the country, including Swazi MTN. Very annoying situation this.
Jul 16, 2012, 3:29 PM, Sonono Mshengu (sonono24@gmail.com)
What is the competition Commission doing when such blatant abuse of power and "cartelling" is going on? Isn't it clear who is the Mafia now? The South African government should be ashamed of MTN's record as a corporate citizen. I hope they nail them in the Iran deal because obviously they would never be called to account for anything here.
Jul 16, 2012, 3:29 PM, Sagila Dlamini (sagila78@gmail.com)