This shouldn't happen again'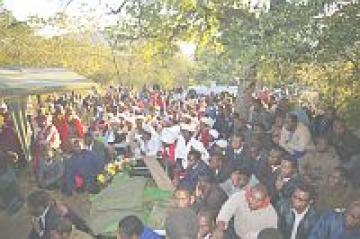 MAFUCULA – Some mourners at the funeral of Lucky Nhlanhla Sifundza, the Royal Swaziland Sugar Corporation (RSSC) employee who went missing and was confirmed dead three weeks later, were disappointed that they could not see what was inside his casket.
They had hoped that the Sifundzas would open the casket and allow them to see what was inside before taking it to the cemetery.
They were interested in seeing the inside of the light-brown casket because they had heard that only the deceased's clothes would be buried. His body was never found.
The funeral was at Mafucula community cemetery yesterday.
The area is situated about 30 kilometres from Tambankulu on the way to Mhlume.
As the vigil continued, some of the mourners kept asking one another if the casket would be opened so that they could see what was inside.
Attending the funeral were more than 300 people who included Lucky's colleagues.
At around 4am, one of the elders of the family made an announcement that it was time for the family to start preparing for the burial.
Mourners waited with the hope that the clothes in the casket would be displayed.
This did not happen.
Instead, the casket was brought into the tent where the mourners were and the morning service began.
As soon as the service began, some of the mourners started grumbling.
They complained that they were not being allowed to see what was inside the casket.
The family did not offer an explanation why the casket was not opened for the mourners to pay their last respects.
After the speeches, the casket was taken into a hearse from Crucifix Funeral Parlour and thereafter it proceeded to the cemetery situated about a kilometre from the Sifundza household.
At the gravesite, George Sibiya, who spoke on behalf of the Sifundzas, said they were still shocked at the manner in which Lucky died.
"I just hope this does not happen again," he said.
"The family also wants to thank RSSC for the support they have given the family. They have been with us throughout. Even on the day when it was discovered that Lucky was dead, the company showed their support. We thank them for everything."