Cops torture E85 thief'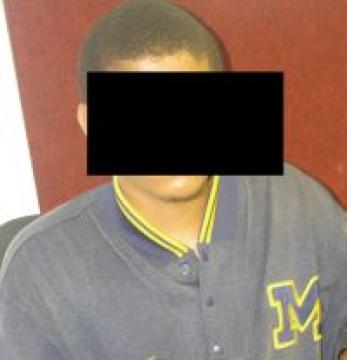 MBABANE – The Mbabane police are alleged to have tortured a 15-year-old boy with a slasher and a knobkerrie after his mother reported him to them for theft.
The young man, who does not go to school because of differences between his parents, allegedly stole E85, which had been kept in his mother's bedroom.
He now has welts on his backside from the alleged torture. He showed them to reporters.
The incident occurred at the new Mbabane Police Station last Tuesday.
Instead of the boy (name withheld because he is a minor) being charged with theft, he was taken from home to the police station where he was allegedly beaten for about five hours.
He was then taken back home.
This is what he alleges and the police have not denied it. They have not, however, confirmed it either.
The young man's mother called the police after she discovered that her money had gone missing.
She first asked her son if he had seen the money.
He admitted taking it and his mother called the police.
He alleges that at the police station, he was beaten with a slasher and a knobkerrie for hours.
The police are also alleged to have threatened to shoot him, saying what he had done to his mother was tantamount to killing her.
The boy visited the Times SUNDAY on Tuesday.
He said he had asked for money from his mother because he wanted to go shopping.
"My mother did not tell me if she would give me the money I had asked for," he said. "On Tuesday morning, I found E85 in her bedroom and thought it was the money I had asked for. I then went to Eveni Shopping Complex where I spent the money.
When I returned home late in the afternoon, my mother asked me about the money. I told her that I had taken it."
He said it was late in the evening when his mother called the police who came and took him to the police station.
"She had given them an instruction to charge me but when I reached the police station, I was told that I would only be punished for what I had done," he said.
"One of the officers went out of the office we were in and came back with a slasher and a knobkerrie. They then began to beat me. They said I should lie down as they wanted to beat me with the slasher on my buttocks. I did exactly that. Each time I cried, they would beat me with the knobkerrie on the head and tell me to keep quiet. In the process, I was told to count all the strokes and shout the number for them to hear."
He said after he had been beaten, another police officer, a senior one, brought a gun and threatened to shoot him.
"The officer told me that he was the station commander but did not tell me who he was," he said.
"The officer said I deserved to be shot dead in order for my mother to be relieved." He said he begged the officers not to kill him but beat him instead.
"They continued to beat me until 3am," he said.
"After the beating, I was then given a chair to sit on while waiting to be taken home. When I told them that I could not sit because my backside was sore. I was forced to sit for more than 30 minutes before I was taken back home."
He said when he went back home, his mother asked the police officer why they had released him.
"The police did not explain much except that they told her they had brought me home. My mother asked me about the experience and I told her about what happened."
The mother confirmed that she called the police after discovering that her money had gone missing.
"My intention was not to have him killed but I wanted him to understand that if he continues taking things without the owner's consent, he will end up in prison," she said.
"When he came back, he mentioned that he was beaten with a slasher but did not explain much. He seemed to be cro-ssed. I did not continue asking him much. I thought he would tell me when the time was right."
She said her son was mischievous, which is why she opted to involve the police."I do not regret why I sent him to the police because he now has habits I do not understand," he said.
"He had to leave school because of his habits and as I speak, I am still making means of taking him back to school outside the country with the hope that his behaviour would change."
"He just needs discipline and nothing else. If he does not change, I will continue looking at other means that would help him change his behaviour."
Father flips his wig
MBABANE –
The young man's father wants the police who allegedly tortured his son arrested.
He told the Times SUNDAY that he was disappointed to hear that the police opted to use a slasher to punish his son.
As a result, he has been in and out of the Mbabane Police Station demanding to see the officers involved.
He first went to the police station on Wednesday where he asked to lay charges against the officers.
He went back to the police station on Thursday afternoon and demanded to make a statement together with his son. However, he did not get much help as he was told that the matter should be addressed internally.
He said he had to drive all the way from South Africa after being told that his son had been beaten by the police.
He and the boy's mother are divorced and he now lives in South Africa.
He said when he got the information, he rushed back home. "As I speak, I am from the police station where I had gone to lay a charge against the three police officers who were involved," he said.
"I do not understand how they could use a slasher and a knobkerrie to discipline my son. Even if he had done wrong, it would have been better for them to charge him instead of beating him like this."
He said on both occasions he was told that the matter should be addressed internally.
"I do not want the matter to be solved internally but I want the officers charged because what they did was wrong and it is not acceptable. I will do all possible means to see to it that this matter is addressed in a proper way.
I should have been made aware that he had stolen the money before the police were informed," he said. "We could have found another alternative of disciplining him than to take him to the police. I am yet to meet with his mother so we can talk about this issue."
---
Comments
It is so saddening to hear that there are women like that in our society. One has to take responsibility over her/ his child not to expose the children to such torture. She deserves to be arrested also, where are the rights of this minor protected. Teach your children, spend time with your children, talk to your Children, believe me you, if you don't do it no one will. The least said about the police the better. I hope the Children's rights activist will take this issue up
Apr 1, 2012, 6:18 AM, Absa (mbongeniamagagula@gmail.com)
Horrible woman fighting your husband through your own flesh and blood-sis man!!!
Apr 1, 2012, 6:18 AM, SDONONO (sdonono@gmail.com)
What percentage grade would you give Swaziland for combating corruption in the public sector in 2013?