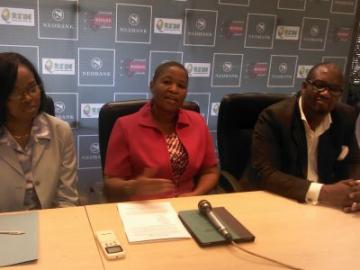 MBABANE – Business Woman of the Year (BWYA) 2013 winner, Nelisiwe Mabuza, has ventured in a project that will see her spend between E100 000
LUDZIDZINI – The second day of the Incwala lencane recorded an impressive attendance at Ludzidzini yesterday. His Majesty King Mswati III was joined by Emakhosikati
...
MBABANE – Former SPTC Managing Director Nathi Dlamini's corruption case will be heard in March next year. SPTC stands for Swaziland Posts and Telecommunications Corporation.Dlamini yesterday
...
MANZINI – A 52-year-old woman has been arrested for defrauding Dups Insurance Brokers E10 000 by producing a death certificate claiming that one of her
...
Conditions for Mbabane, SZ at 2:00 am SAST
Current Conditions:
Unknown, 21 C
Forecast:
Thu - Rain. High: 22 Low: 17
Fri - AM Showers. High: 24 Low: 17
Sat - Mostly Cloudy. High: 24 Low: 17
Sun - Mostly Cloudy. High: 28 Low: 18
Mon - PM Thunderstorms. High: 27 Low: 19
Full Forecast at Yahoo! Weather
(provided by
The Weather Channel
)
How much are you planning to spend on Christmas gifts and festivities this year?