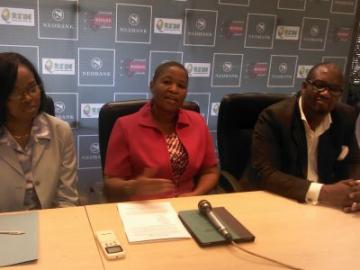 MBABANE – Business Woman of the Year (BWYA) 2013 winner, Nelisiwe Mabuza, has ventured in a project that will see her spend between E100 000
MBABANE – Hub giants, Manzini Wanderers have officially partnered with Technoway International in registering their fans.The launch was held on Tuesday evening in Manzini. The
...
MBABANE – It will be a dog-eat-dog this weekend in the MTN Premier League as the football fraternity waits to see who wins the E250
...
'Liyeza L'weseli, wena loshaywa luvaloohhh, wena loshaywa luvalo, hhayihhhhh, hheeeehhh, kumnandziiiihhh, kumnandzi kwelakithi e Weseliniiihhhh. Maweseli today I'm introducing myself with this popular song because I'm
...
Conditions for Mbabane, SZ at 2:00 am SAST
Current Conditions:
Unknown, 21 C
Forecast:
Thu - Rain. High: 22 Low: 17
Fri - AM Showers. High: 24 Low: 17
Sat - Mostly Cloudy. High: 24 Low: 17
Sun - Mostly Cloudy. High: 28 Low: 18
Mon - PM Thunderstorms. High: 27 Low: 19
Full Forecast at Yahoo! Weather
(provided by
The Weather Channel
)
How much are you planning to spend on Christmas gifts and festivities this year?