ACTIVISTS CHALLENGE PM TO THROTTLE THEM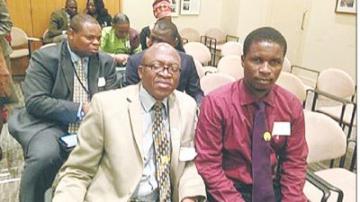 MBABANE – Trade unionist Vincent Ncongwane and Human Rights Lawyer Sipho Gumedze have challenged Prime Minister Sibusiso Dlamini to throttle them.

On Wednesday the premier informed Members of Parliament (MPs) that they should strangulate workers union leaders who went to Washington under the pretext of going to salvage AGOA.
Gumedze said a particular trade unionist yesterday, at the summit, was worried about their return back to the country following the Executive leader's remarks. "They are saying we must not return to Swaziland; however, we have told them that whatever happens upon our return the world will know who was responsible because he said it in public," Gumedze said.

He further emphasised that they were returning home. "We are coming back home and if he (PM) wants to strangle us, let it be so," he emphasised. He highlighted that he was inspired when Human Rights Lawyer Thulani Maseko, his spouse Tenele, The Nation Magazine Editor, Bheki Makhubu and his wife Fikile said: "It is well with our souls."
The human rights activist said they were saying the same. "It is well with our souls."

Gumedze is in Washington DC where he was attending the US-Africa Leaders Summit which ended yesterday. He is travelling with Ncongwane, Secretary General of the Trade Union Congress of Swaziland (TUCOSWA). He responded to the PM's statement by stating that they did not report to the premier.

"Anyway we did not have to report to him or government that we were leaving. We report to our constituencies," Gumedze noted.

He further stated that he would be very concerned if the workers were the ones propagating the allegations that they had sneaked out of the country.
"If they (workers) were the ones making the comments that we sneaked out without their knowledge, then we would be concerned but for this to come from the Minister of Police, when his charges are very active both at the borders and elsewhere in gathering information, it is embarrassing," he further said.

Furthermore, Gumedze said it seemed as if the throttling was the standard threat from the leadership. He also said he believed that they (government) could do better than that.
The duo participated in a number of events while still attending the two-day summit. The events they attended included two protests over freedom of expression in the country. On the first day of the summit, Gumedze relayed the news that they had secured the services of Hogan and Lovells, an internationally acclaimed law firm that operates in six continents to forward Makhubu and Maseko's case to the United Nations.

He said the law firm was approached by the International Commission of Jurists and the American Bar Association following appeals by Lawyers for Human Rights (LHR) Swaziland. He further said LHR(S) had made appeals to international partners on behalf of Maseko and Makhubu.

The duo of Maseko and Makhubu is currently languishing in prison following a two-year sentence without a fine that was imposed by Justice Mpendulo Simelane. "LHR(S) had been mandated to handle all aspects related to things legal, the reason we now have this law firm working on the matter," Gumedze said.
He also said the law firm would be filing a formal complaint with the UN.