'Top cop behind theft of livestock'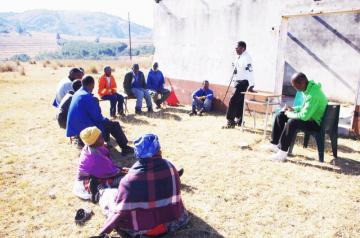 MPULUZI – Angry residents have alleged that a top police officer is behind the theft of 233 of their livestock.

They claimed to have lost a herd of 189 cattle and 44 goats.
The residents have claimed that the officer is implicated in the rustling of their cattle and goats from the country to South Africa.

This was revealed during a meeting between Private Investigator Hunter Shongwe and Lundzi community members on Saturday. The meeting was held at Mpuluzi Sports Ground.
The officer's name was mentioned during the meeting but will not be named for now.
The residents claimed that they recovered some of their livestock in various farms in neighbouring South Africa.

The residents alleged that they found the suspect with documents and cellphone messages from butcheries in South Africa which detailed how he sold the cattle to them.
Most of the community members alleged that their livestock were stolen during the day at the grazing veld.

The residents said they were concerned by the growing number of incidents of cattle rustling as the last incident is alleged to have occurred in May.
Police Public Relations Officer (PRO) Superintendent Wendy Hleta said police were still investigating a number of stock-theft incidents in the country. She said a number of cattle had been recovered in South Africa and were being brought back to the Swaziland.

"The police service has structures and if there are people who have a complaint against a certain officer, there is a relevant office where they can lay their complaints. I, however, believe that police are doing everything they can to attend to the matter of cattle rustling. I also believe that when they execute their duty, they follow the standard procedures," said Hleta.
Owners resolve to sisa their livestock
MPULUZI - Lundzi community members have resolved to keep their livestock away from the area in fear of losing the livestock.

As a result, the residents now keep their livestock with relatives who do not reside at Lundzi.
"I decided to take my livestock to my relatives (kusisa) because it seems like people who live near the borderline like us are targeted by cattle rustlers.
This is because it is easy for them to drive our cattle to the neighbouring country," said one of the community members.
Did social media save the life of Dan Dlamini, the boy who went missing at Madonsa last Monday evening?