UNISWA graduate's premonition of death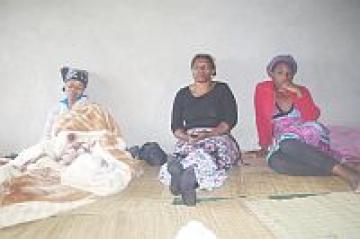 NKOMATI - A University of Swaziland (UNISWA) graduate has left his impoverished family in great distress after allegedly committing suicide by jumping into the crocodile infested Nkomati River in Northern Hhohho on New Year's Day.
The reasons why Ntando Mkhonta (26), who graduated last year with a B.A in Humanities Degree, decided to end his life in such a manner are still unknown.
His body was eventually found by a search party floating by the river banks on Thursday morning after he had disappeared from home on Tuesday.
His family believes he killed himself.
Narrating events of New Year's Day, his distraught mother Phindile Nyoni said Ntando woke up on Monday morning a normal person having enjoyed the crossover within the homestead with the rest of the family.
cheerfully
"He was his normal self and even greeted us cheerfully in the morning after we had enjoyed the crossover together. He joked with some of his siblings and then asked where some of his brothers were," said his mother.
Some of his brothers were not home and he went to their neighbours' homesteads to check if they were they were there – to no avail.
"He then returned home and sat under a tree for almost 30 minutes, facing down. Some of his siblings were in the yard relaxing but he did not join them. He sat under the tree all by himself. After a while, he disappeared and nobody knew where he went," said Phindile.
She said they got worried when Ntando did not return home.
"His brothers started looking for him around the area and did not find him on Tuesday. He always slept at home and his girlfriend even dished up food for him, thinking he would return," said the mother.
The following day, a full scale search party - comprising of relatives and local boys started looking for him. "The search party stumbled upon his clothes, including a shirt, trouser, wallet and other belongings, on the banks of the Nkomati River and our suspicions were that he could be inside the river. Police scuba-divers were called," she said. The search inside the crocodile infested river by scuba-divers and other community members lasted the whole of Wednesday, to not avail.
Ntando's already decomposed body was found floating just next to the river banks on Thursday morning by community members who called the police.
"We all cried when we saw the body. It was in a decomposed state and it was even difficult recognising him. It is difficult to think of any reason why my son would decide to kill himself in such a manner," said the grieving mother. Deputy Police Public Relations Officer (PRO), Inspector Khulani Mamba confirmed the incident yesterday.
He talked about death
NKOMATI- Seemingly, UNISWA graduate, Ntando Mkhonta knew that he would die – and sooner than anyone would have expected.
This is because, according to his relatives, death was something he frequently talked about.
He even talked about it to the mother of his one-year-old child on New Year's Day.
Lomathemba Zulu, Ntando's girlfriend, said on Tuesday morning, Ntando woke up and asked her to bring his son to him.
"He then showed our son his picture and asked him who the person in the photo was. The child responded and said it was 'daddy'. Then Ntando responded and said 'good, it means even when I am dead, you will be able to recognise your father, my boy'. It was as if he knew that he was going to die," said Zulu.
Ntando's sister, Nelly, said on the Tuesday morning, her brother also came to her and asked how she thought 2013 would treat them as a family.
"I said I believe 2013 would be a good year. He responded and said he did not think so," she said. His mother, Phindile said she had lost a brave son in Ntando whom she thought was going to find a job soon and start helping her with some household responsibilities.
The family is poor and Ntando's mother said she did not even know where she would get the money to bury him since Ntando's father also died last year. She asked for good Samaritans to lend a helping hand and contribute in whatever form towards her son's funeral, which they expect to hold next weekend.
---
COMMENTS:
- May his soul rest in eternal peace!
January 5, 2013, 1:01 pm, Babe Matsenjwa
Do you believe that the announcement of pay cuts for politicians was window dressing?