PROPERTIES SEIZED BY STATE TURNED INTO PUBLIC OFFICES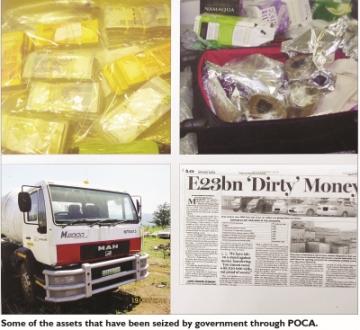 mbongeni@times.co.sz

MBABANE – It is here and very real! Phila Dlamini, the Director of Public Prosecutions (DPP), has warned all those who acquired wealth, properties, and land using funds raised from criminal activities and questionable circumstances to be ready to have their assets forfeited by the State.

In vernacular, the DPP said: "Bantfu abaphume ehlatsini, sikhatsi sekubhaca sesiphelile," meaning, 'the time to hide is up'.
Dlamini said all the assets that would be forfeited by government under the Prevention of Organised Crime Act of 2018 (POCA) would be sold through a public auction, or destroyed and, if government deems fit, be converted to a public structure that would serve a community.

Giving an example, Dlamini said immovable property forfeited by the State especially in rural areas would be converted into an old age home centre, an orphanage home or a government office to serve the community. This would, however, depend on whether the Criminal Assets Recovery Committee (CARC) approved that the property's location was convenient for such public use.

Already, government, through CARC in the Ministry of Justice and Constitutional Affairs, has seized or preserved around 20 properties worth millions of Emalangeni.

This has been achieved within months of establishing CARC under POCA. CARC consists of Minister of Justice Pholile Shakantu, Minister responsible for the Police, who is the Prime Minister Ambrose Mandvulo Dlamini, Minister of Finance Neal Rijkenberg, Attorney General Sifiso Mashampu Khumalo, the DPP, SRA Commissioner General Dumisani Masilela, ACC Commissioner Dan Dlamini, Police Commissioner William Tsintsibala Dlamini and Director of Intelligence Unit Fitz Graham.

Among the assets that have been forfeited by the State are cash amounting to E1 million as well as liquor and cigarettes worth E757 164 and E440 210.20 respectively. Other assets under preservation include 18 vehicles, amongst them a Hino truck, white Toyota Quantum, navy blue Toyota Ipsum, Nissan Sunny, Honda Fit, Toyota Altezza sedan (blue), BMW 325 (blue) sedan and Honda Civic to name but a few.

The Times SUNDAY can reveal that other seized assets include two immovable properties located both in rural and urban areas.
A fortnight ago, a sum of E85 382.40 was seized by the State from 11 men who are suspected to be dagga dealers. The DPP said the primary duty of POCA was to compensate victims of the crime.

He said emaSwati should understand that POCA was not established to target certain individuals as some people may perceive. In fact, he said the formation of POCA was as a result of international bodies that the country is affiliating to. He explained that the Kingdom of Eswatini is a signatory to the UN Charter and therefore signed off on agreements and conventions. One of these conventions is the United Nations Conventions against Illicit Traffic in Narcotic Drugs and Psychotropic Substances 1988 (Vienna Convention) that calls upon State parties to put measures in place in order to provide for the confiscation of proceeds and instrumentalities of drugs and related activities.

issues of compliance

Dlamini said government reported to the international organisations on issues of compliance. In fact, he said the country had been put on red alert for delaying the implementation of POCA. He clarified that POCA's role was not to investigate but that duty is left with other agencies. These agencies, according to the DPP, can refer a matter to POCA for prosecution. Such agencies include law enforcers, the Eswatini Revenue Authority (SRA), Immigration officers, banks and auditors.

He said after investigations have been completed the matter is forwarded to POCA for prosecution.
"Ours is to follow the law, the Constitution and POCA guidelines. We then apply for preservation of the asset in question. We also allow the owner to defend it and ample time is given to the defendant," he said. Dlamini explained that soon government would be issuing adverts for auction and disposal of the forfeited assets. A government gazette published on June 22, 2018 states that POCA was established to combat organised crime and criminal gang activities, prohibit certain activities relating to racketeering, criminalise certain activities associated with gangs.

The DPP said they have noted that some people are converting their assets while others are attempting to sell them to buy cattle to divert attention.
"Some build houses on Swazi Nation Land ( SNL) using money made from illegal dealings hoping that the State cannot forfeit their assets there. They are misguided; we are actually found everywhere, even on SNL. The time to hide is up. Converting these illegal assets won't help," he said. He said all the assets forfeited by the State would be disposed of soon.

"Once the gazette has been issued, adverts would be run in the paper," Dlamini said.
He was interviewed in the presence of Elsie Matsebula, Principal Crown Counsel.

preservation of property

Meanwhile, Section 42 (1) of the POCA titled Forfeiture of Property and Related Matters, state that: "The DPP may apply to the High Court for the preservation of property order prohibiting any person, subject to such conditions and exceptions as may be specified in the order, from dealing in any manner with any property."

Subsection two states that: "The High Court shall make an order referred to in subsection (1) without requiring that a notice of the application be given to any other person or the adducing of any further evidence from any other person if the application is supported by an affidavit indicating that the deponent has sufficient information that the property concerned is (a) an instrumentality of an offence referred to in the schedule or (b) the proceeds of unlawful activities, and the court is satisfied that that information shows on the face of it that there are reasonable grounds for that belief."

The Act further states that seized properties shall be dealt with in accordance with the directions of the High Court.
"When the High Court makes preservation of property order, it shall at the same time make an order authorising the seizure of the property concerned by a member of the police, and any other ancillary that the court considers appropriate for the proper, fair and effective execution of the order," subsection three states.

In this section, proceedings are civil, not criminal. The Act states in Section 50 that if preservation of property order is in force, the DPP may apply for an order forfeiting the property by the State.
Human Rights Lawyer Sipho Gumedze said he was yet to look at the legislation regarding asset forfeiture. "It is way above me this one. I will need to look at the legislation first. I know the statute; I mean the specific section they will rely on," he said.

Meanwhile, Mduduzi Gina, Secretary General of the Trade Union Congress of Swaziland (TUCOSWA) said: "Organised crime is a scourge that has destroyed many societies and nations as it is normally a chain that even corrupts public officers entrusted to protect a country in all spheres of life."
He said crime needed to be discouraged.

forfeiture of properties

"The forfeiture of convicts' properties under this Act should be carried out after a free and independent Judiciary has presided over a case and without influence from no one arrived at that conclusion after a fair trial. Architects of such crime should be warned and the Ministry of Justice and Constitutional Affairs must put in place programmes to educate the nation on laws of such magnitude," he said.
Tum Du Pont, President of the Federation of the Eswatini Business Community (FESBC), said fairness should be practised at high level regarding asset forfeiture. He said as businesspeople, they believed they would not be targeted. "The law should not be personalised and it should be fair. We are asking that proper investigation about inheritance of the properties should be considered," he said.