HOSPITALS ROPE IN WARDERS, BAPHALALI AS NURSES STRIKE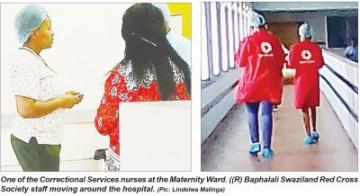 MBABANE – Desperate times call for desperate measures. This best describes government's last ditch effort to stabilise the country's collapsing public health sector.

The situation in most government hospitals has reached crisis point as patients are being turned back, some left to die and others miss taking their scheduled medication as nurses have downed tools in protest against a litany of grievances.

Yesterday, nurses from His Majesty's Correctional Services and Baphalali Swaziland Red Cross Society were roped in to assist patients at the Mbabane Government Hospital.

Each ward, including the maternity ward, had a nurse from the Correctional Services and a number of Baphalali staff.
Principal Secretary in the Ministry of Health Dr Simon Zwane, admitted that they had sought the help from the two institutions.
Zwane explained that this was not the first time they had asked for extra hands when nurses were on strike.

The PS went on to state that they appreciated the help of the two institutions, as their efforts ensured that patients were being taken care of.
"They are there to help the professionals like the matrons in the wards. This is not a desirable situation and we do not want the nation to suffer. Uma bonesi bagodle emandla, siyabacela vele laba basisite (When nurses are on strike we normally rope in people to help us)," Zwane said.
In the maternity ward, there was one nurse from the Correctional Services and two from Baphalali.

In both the female and male wards, the matrons were found with doctors as the relatives visiting their admitted family members were asked to wait outside.
Some of the relatives were heard complaining that they could not get medication for their relatives, as there were no nurses to give them the prescription to be bought from the pharmacy.

Others were found on the phone calling their relatives in different parts of the country, asking if they could be able to transfer their sick relatives to other health centres if the nurses were working.

"It is really bad here. They just turned back my sister and she is in labour. They told her to go to Manzini Nazarene (Raleigh Fitkin Memorial Hospital)," Nomphumelelo Matsebula, a relative stated.

When the maternity ward was visited, two women were found there experiencing labour pains.
Should government fix its existing fleet of vehicles or purchase a new fleet?