COP THROWS HIMSELF IN FRONT OF TRUCK, DIES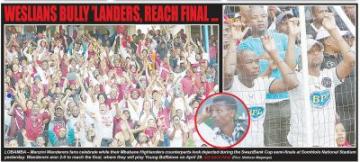 MBABANE –When you are a police officer you are supposed to be fearless and this proved true when a police officer ended his own life by throwing himself in front of a moving truck.
Charles Shongwe was being investigated by his colleagues and he apparently decided to avoid being sent to jail by ending his life on Friday night. Shongwe, as he was popularly known in Mbabane, was based at the Mbabane Police Station, underthe Lukhozi Department for some years before he was moved to the shifts department where he would be in uniform. When he met his death, he had been moved again to the Criminal Investigations Department (CID) in Mbabane. Shongwe is said to have gone to his parental home in Siteki when he received the information that he was being investigated. On Friday evening, he allegedly took his vehicle and parked it near KaMartin's Bus Stop and remained in it for a while.
He is alleged to have then alighted from the vehicle and when the truck came he threw himself into the road. When the truck driver applied brakes, it was already too late. Chief Police Information and Communications Officer Superintendent Khulani Mamba confirmed the death of the police officer. Mamba stated that they were still investigating the allegations that Shongwe had committed suicide. "It is true that Shongwe was being investigated. He had not been charged yet when he met his death. His wife is also a police officer and she was based in Mbabane too. His move from Lukhozi was the normal shuffle we have as a police service," Mamba said. Information gathered was that Shongwe and another police officer allegedly confiscated 15 dagga bags at Maphalaleni.
The two officers allegedly did not take the dagga bags back to the police station and after some time, they went back to Maphalaleni where they took another bag of dagga. They allegedly took the one bag to the police station and handed it in as an exhibit and it is alleged that the two police officers reported that the suspects had fled the scene. According to a reliable source, the owner of the dagga then went to the police station and asked about his consignment.
This then started the investigations as the dagga owner mentioned the names of the police officers who had taken the dagga. What was gathered is that the other police officer had told the truth when he was called by his superiors on what had happened at Maphalaleni.
After allegedly admitting to what had happened on the day, it is speculated that the police officer was promised that he would be turned into a State witness, when the other police officer (Shongwe) had been formally charged and when the matter was taken to court. The deceased's family, when contacted yesterday, stated that they were still shocked by the incident and could not say anything.
Do you think that multiparty democracy and the Tinkhundla system could co-exist?