VICTOR MURDER: 2 MORE SUSPECTS IDENTIFIED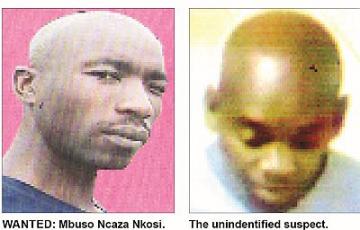 MBABANE – The puzzle in the murder of businessman and football administrator Victor Gamedze is almost complete.

Taking from the National Commissioner of Police Isaac Magagula's statement that they had four prime suspects from the beginning of their investigation, two more suspects were identified yesterday.

Yesterday, police released pictures of Mbuso Ncaza Nkosi of South Africa who is believed to be from the Gauteng Province and that of another unnamed man.
The suspects are Sipho Shongwe, one of the Directors of Matsapha United Football Club, Sicelo 'Dzodzo' Zikalala, Nkosi and the unnamed man.

When releasing the pictures of the duo, Deputy Police Information and Communications Officer Assistant Superintendent Phindile Vilakati said these men were wanted in connection with the murder of Gamedze.

She explained that these men could assist the police with their investigation towards solving the case.
Vilakati flatly refused to divulge information when asked if the gunman who shot Gamedze Ezulwini Galp Filling Station about two weeks ago was one of the men whose identity had been revealed.

When questioned if the two suspects were the ones captured on CCTV in one of the local supermarkets purchasing breakfast, the police mouthpiece said: "We cannot reveal anything at the moment because investigations are still ongoing."

In the footage, 'Dzodzo' was seen in the company of three men who are not familiar and it is suspected that they may be from outside Swaziland, probably South Africa.