JEFF PENBERTON IS SWAZI MOBILE CEO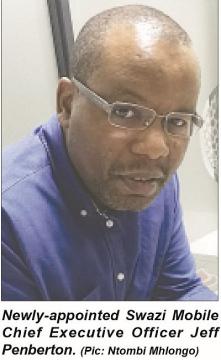 MBABANE – A company that aspires to achieve results has to introduce changes and Swazi Mobile has done just that.

This is because the company has, for the first time since it began its operations, appointed someone into the position of Chief Executive Officer (CEO) on a permanent basis.

The news comes after almost three weeks since the company lost its chairman, Victor Gamedze, who died after he was shot in cold blood at the Ezulwini Galp Filling Station.

The man who has taken the hot seat of being a substantive CEO for Swazi Mobile is none other than experienced telecoms mastermind Jeff Penberton.
Penberton is not new to the company as he was there when it officially went live on the last week of July last year and was announced to the same position albeit on an acting basis.

After his contract expired, he left the company and the acting position was taken over by experienced technical master Wandile Mntshali.
Having lost its executive chairman, most members of the public have been asking themselves if the company would be able to cope and grow but it looks like its management has everything under control.

The announcement of Penberton is said to have been communicated to most of the employees yesterday.
However, the contractual terms of the appointment could not be ascertained.
When this newspaper visited the company's main offices situated at the Glass House Building, Penberton was found in a meeting but eventually attended to this reporter.

Being a man who does not usually say much, he decried that it was still early to talk about his new position but admitted the need to grow the company by continuing from where Gamedze left off.


Should government suspend national events and celebrations hosted by the Ministry of Home Affairs?