TWO COPS KILLED AS TRUCK PLUNGES INTO DITCH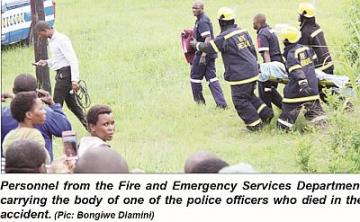 MANZINI – A police officer died a hero as he executed his duties even in the face of death.

This was the sentiment of witnesses of an accident that claimed the lives of two police officers yesterday. The accident happened at Nazarene Traffic lights when a water tanker truck driven by one of the officers presumably went out of control and plunged into a ditch.

According to eyewitnesses, the government registered tanker was from the Matsapha direction when, just before the Nazarene traffic lights, it veered off the road towards the public transport drop-off zone.

It sped past the zone for a few meters before flying over into the deep end of the ditch where it landed on the side. Information gathered from witnesses was that before the vehicle made the stunt which they described as only seen on action movies, the driver honked the horn and signalled oncoming vehicles from Ngwane Park direction to stop.

"Luckily, there was not much traffic from the Manzini side and motorists from Ngwane Park quickly noticed that something was wrong hence they were able to stop before it was too late. He saved some lives," said one witness.

There was only a minor dent on the guardrails on the pavement beyond where the truck plunged in. Vegetation at the edge of the donga was not disturbed at all and one would almost not notice the truck that was buried at the heart of the bushes in the trench. The truck was, however, damaged so much that it was difficult to remove one of the officers who were on board.
The accident happened at around 2pm but firefighters spent approximately two hours trying to extricate the passenger who was trapped to his seat.