DANCE LESSONS FROM THE KING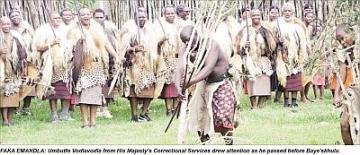 MBABANE – His Majesty King Mswati III tried everything in his powers to educate Ingatja on how to sing and dance properly but he ended up bursting into laughter as some failed to catch up.

When the energetic young boys entered the Ludzidzini Cattle Byre with the shrubs (lusekwane), the King noticed that they were singing and dancing the same song in different ways.
The Monarch, therefore, ordered the warriors to teach them how to sing and dance properly.
Noted was that some of them were shouting on top of their voices while some were singing very fast.

Upon receiving the order from the concerned King, the warriors advised the young boys to take a cue from the King.
"Yitsatseni kumnikati," they said in vernacular loosely translated: 'learn from the King'.

Some Ingatja danced uniformly while others failed to follow. It was a different case with Ingtaja from Baphalali Swaziland Red Cross Society, who came with a completely different dance style.

He was jumping back and forward while others moved sideways. The King ordered that he be corrected however, it was like he was being encouraged to do it more.

As a result, the King and the warriors failed to contain themselves and burst into laughter.
Also, Sandile 'Msandikababa' Nxumalo was called to order as he danced in a different style. It was noted that when the warriors used their right foot, Nxumalo would use his left foot.
Do you believe that the teen birth rate has declined in the country?