OVER E200M DAMAGE AS SPINTEX UP IN FLAMES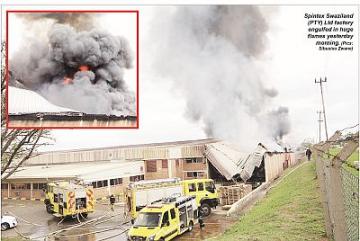 MATSAPHA – About 400 Spintex Swaziland workers' jobs are at stake after the factory was gutted by a mysterious fire which resulted in damages said to be worth over E200 million.

The incident, which led to the indefinite closure of the factory, took place yesterday at around 6am in the presence of about 170 workers.
Following the incident, the employer has screamed sabotage by the workers as there was an ongoing dispute over working hours while the employees claim the fire was caused by a compressor that exploded.

A source, who was within the factory when the incident took place, stated that there were about 90 night shift workers who were waiting to clock out while 75-day-shift employees were preparing to start working when they heard a loud explosion sound from one of the departments.

"After the explosion, blazes of fire came out through the factory shell's roofing and windows, something that saw the employees running helter-skelter around the factory before kicking wide open the exit gate," he said.
The source said the employees ran for dear life, leaving their belongings in their lockers but fortunately, the fire did not reach them. He said luckily, no one was injured during the incident.

The source said police and Swaziland National Fire and Emergency Services personnel were called and responded promptly to the call.
He said for safety purposes, the workers were driven away from the burning factory as the firefighters galloped in to put out the raging flames. He said by then, the factory and its surrounding was covered by dark clouds of smoke.
Should government allow parents to pay top-up fees?