SWAZI MTN GIVING AWAY 2 SUVS WORTH E1M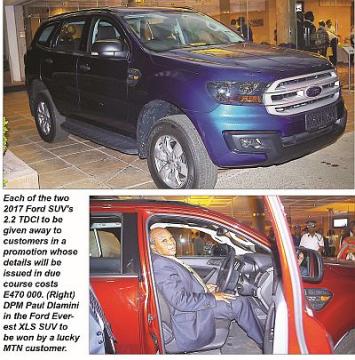 EZULWINI – Mobile Money cash prizes, cellphones, airtime and two Ford Everest XLS seven seater sport utility vehicles (SUVs) worth nearly E1 million form part of the goodies to be won by customers as Swazi MTN celebrates 20 years.

Each of the two 2017 Ford SUVs 2.2 TDCI to be given away to customers in a promotion, whose details will be issued in due course cost E470 000.
The mobile operator has promised to roll out a number of charitable and developmental initiatives as part of celebrations to mark 20 years of successful operation in the kingdom since establishment in 1998. The 20-year celebrations have been themed; 'The leader in connecting the nation to a brighter future'.

Unpacking some of the benevolent initiatives to be implemented throughout the course of 2018, Chief Consumer Officer Sam Shongwe explained that projects to be rolled out would be across all sectors including health, education, technology, sports, arts and culture.
He said activities would include, but not limited to, school debates where prizes would be payment of school fees, data and WI-FI routers, competitions to improve cultural diversity where prizes will include livestock, music, poetry, and games, heroes' awards to honour people who make a positive impact towards poverty alleviation and health.

For businesses, Shongwe said they would be giving away a number of goods such as vendor bicycles to help show appreciation and support to the loyal businesses that contributed to Swazi MTN's growth over the past two decades.
"It is our 20th birthday and we have decided to dish out gifts to Swazis," said Shongwe.

Chief Executive Officer (CEO) Ambrose Dlamini said the series of initiatives they were launching was an attempt to say thank you in a way that they believed their valuable customers would find meaningful and memorable.
Deputy Prime Minister (DPM) Paul Dlamini said it was pleasing to note that Swazi MTN had invested over E30 million towards corporate social investment programmes since its establishment.

The DPM said as they look into the future, government had no doubt that Swazi MTN would continue to stimulate development in the different sectors of the economy. "This, we believe, will be through consistent payment of different taxes by MTN, stimulating the market through innovative products and creating business and employment opportunities among other things," he said.

Chairman of the Board Senator David Dlamini said for the duration of 2018, they would be unpacking the company's contribution towards the development of communication, education, information technology, sports, arts and culture and health. It was further declared that Swazi MTN was here to stay.

This bold declaration was made by CEO Ambrose Dlamini at the launch of 20th anniversary launch convened at the Royal Swazi Spa auditorium on Thursday. "Swazi MTN is here to stay, not as a passive passenger, but we are here as an active partner to our valued customers, stakeholders and His Majesty's government," David declared.

The chairman said they were an enabler and partner in e-government initiative. He assured that as a leading player in the telecommunications landscape, they were ethical and compliant. The CEO said in their view, on the basis of support they receive, the future was bright. He mentioned that it had been a fulfilling 20-year journey with a fair mix of all kinds of experiences. "Through all of this maze of experiences, Swazi MTN has kept walking," he said.
The chairman said going forward, they were looking at improving their capacity to accelerate innovation in the country so they could facilitate introduction of innovative products and solutions.
Could most of the traffic accidents that occurred in the country have been prevented?