PINCESS SIKHANYISO THRILLS AGAIN WITH UNIQUE KUGIYA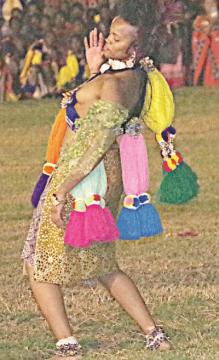 LOBAMBA – It would not have been the main day of the Reed Dance ceremony without Imbali leader Princess Sikhanyiso thrilling thousands with her unique giya skills.

The princess, who did not lead the maidens last year, summed up the day in style as she was at her element.
Dressed in a unique orange sidvwashi (bottom regaliaI only covering her lower body, which she spiced up with some glittering cloth around her arms, she kicked off her dance by first posing while a song played in the background for about three minutes.

As she stood there still, guests were kept guessing on what exactly she was about to do. She then began her giya dance which was accompanied by a traditional song and dazzled in different styles.
Her skills were so unique and had the throngs in attendance glued to her.

At some point, she looked like she had been inspired by the late American pop star Michael Jackson or RnB star Chris Brown as she did the famous moon walk, much to the amazement of spectators.

She would now and again lift her silver shiny sizeze and bend while facing upwards.
As per the tradition, princes, including Lindani, Majaha, Sicalo and Bandile, danced towards the arena to appreciate her in her dance and song which is known in Swazi culture as kudlalisela.

The King's Emakhosikati, one of whom was her mother Inkhosikati LaMbikiza, also did the same as they joined the princess and showed appreciation for her giya dance.