MINISTER'S DAUGHTER AMONG 14 624 HMCS JOB SEEKERS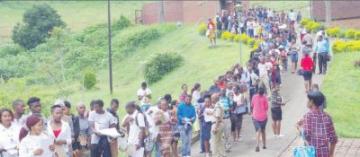 MBABANE – Among the thousands of people who applied for posts at His Majesty's Correctional Services (HMCS) yesterday was a minister's daughter.

Nomvula Ngcamphalala is the daughter to Minister of Sports, Culture and Youth Affairs David 'Cruiser' Ngcamphalala.
She is among the close to 15 000 job seekers who crammed the various offices of HMCS to apply for the warders and wardresses positions.
Like all the other job seekers, Nomvula was found queuing patiently, waiting for her turn to submit her documents to the officers.

In a brief interview, Nomvula revealed that she had arrived at 10am and joined the already long, winding queue to submit her application. She currently resides at Selection Park with her parents and siblings.

She is also a student at Limkokwing University of Creative Technology where she is pursuing a Degree in Architecture. When asked why she applied for the post, she mentioned that she wanted to try other options in life.

She explained that she wanted to fend for herself and make her parents proud.
"My dad doesn't even know I am here and this is mainly because I do not want to use his status in society or position to my favour," Nomvula said.
She conceded that if her application was accepted, she would not miss the opportunity to join His Majesty's Correctional Services.
When reached for comment, the minister said he was not aware that his daughter was applying for a post at the Correctional Services. However, he mentioned that education was very important in every aspect of life and he had given his children the education they deserve. He said they were free to search for greener pastures to better their lives.
Is the country's development affected by outdated laws?