CIVIL SERVANTS TO SHUT DOWN GOVT OPERATIONS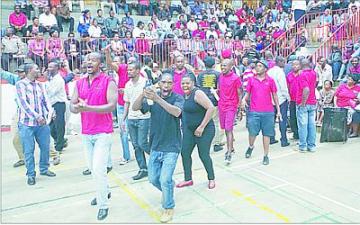 MANZINI – Civil servants have vowed to shut down government operations tomorrow and Friday as they would embark on a two-day strike action.

This means for two days, civil servants are expected not to report to their various workstations in the country, but will converge at locations as directed by their branches at union level.

This decision was reached during the public sector unions' urgent joint mass meeting held at Bosco Skills Centre Hall in Manzini yesterday.
The country's public sector unions are the Swaziland National Association of Teachers (SNAT), National Public Service and Allied Workers Union (NAPSAWU), Swaziland Democratic Nurses Union (SWADNU) and the Swaziland National Association of Government Accounts Personnel (SNAGAP).
It was stressed, during the meeting, that no civil servant was expected to report for duty as about 70 000 government employees are expected to join TUCOSWA's march to Cabinet tomorrow.

It was also agreed that on Friday all civil servants would again down their tools and march to Parliament to deliver the pending petition, which they were supposed to deliver during the official opening of the Third Session of the 10th Parliament about two weeks ago.
They said they would also demand for the release of the salary review report.

This comes after the union leaders succumbed to their members' demands to join the Trade Union Congress of Swaziland's (TUCOSWA) protected strike action tomorrow.