MZUTHINI, TUCOSWA AT LOGGERHEADS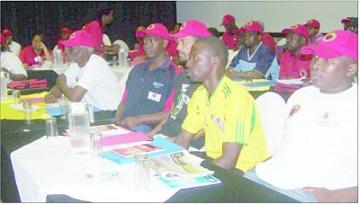 MBABANE – Isaiah Mzuthini Ntshangase, the Commissioner General of His Majesty's Correctional Services (HMCS), says his department does not need a union.
Instead, he insists that it will have to do with just a staff association.

He said the general notion or perception by unions and federations in the country that the International Labour Organisation (ILO) wanted Correctional Services officers to be unionised was 'totally wrong'.
"This is a wrong perception by certain elements that the ILO wants our officers to form a union," said the commissioner general.

creation

He said the ILO wanted the creation of a forum or platform within the Correctional Services, which workers could use to engage their employers in talks over conditions of service.
He said the forum wanted by ILO should allow the workers to pass their grievances to the employer without fear and victimisation.
He said such a forum, therefore, existed at the Correctional Services and is known as a staff association.

The ILO's Freedom of Association and Protection of the Right to Organise Convention of 1948 (No.87) provides, among other things, that workers and employers' organisations shall have the right to establish and join federations and confederations.
It goes on to state that any such organisation, federation or confederation shall have the right to affiliate with international organisations of workers and employers.

determined

The issue of correctional services staff is included in Article 9.1 of the Convention which reads: "The extent to which the guarantees provided for in this Convention shall apply to the armed forces and the police shall be determined by national laws or regulations."
Article 10 of the Convention defines the term 'organisation' as any organisation of workers or of employers for furthering and defending the interests of workers or of employers.

Meanwhile, Ntshangase said the Correctional Services staff association performed all the functions necessary to improve the interests of workers, hence there was no need for the establishment of a union in the Correctional Services.
He said it was very effective as it was fully represented, with its membership incorporating the lowest ranked officer to senior superintendent.
Ntshangase said he and his immediate deputies were the only officers who were not members of the association. He said the association for HMCS officers had powers to deliberate on issues that affected them at the workplace, which they wanted to be improved.