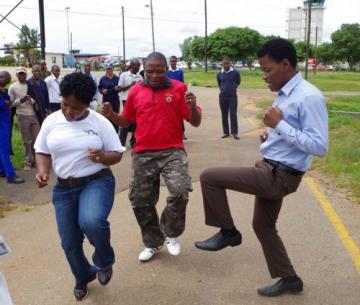 MATSAPHA - The Swaziland Transport and Allied Workers Union (STAWU) has sent a warning to passengers to use airplanes at their own risk. This follows the
MBABANE – Parliamentarians from the ninth Parliament will be remunerated based on Finance Circular No. 1 of 2010, it has been established. Acting Principal Secretary in
...

MATSAPHA - The Swaziland Transport and Allied Workers Union (STAWU) has sent a warning to passengers to use airplanes at their own risk. This follows the
...
NGWENYA — Prime Minister Barnabas Sibusiso Dlamini has said Swazis should celebrate Christmas in a Christian manner. Dlamini was speaking during a press briefing on
...
Conditions for Mbabane, SZ at 2:00 am SAST
Current Conditions:
Unknown, 19 C
Forecast:
Fri - AM Showers. High: 29 Low: 19
Sat - Partly Cloudy. High: 32 Low: 21
Sun - Partly Cloudy. High: 33 Low: 22
Mon - PM Showers. High: 26 Low: 18
Tue - Mostly Cloudy. High: 24 Low: 17
Full Forecast at Yahoo! Weather
(provided by
The Weather Channel
)
Do you think government should pass a law to exempt medical supplies from taxation?