Tremor caused by Maguga dam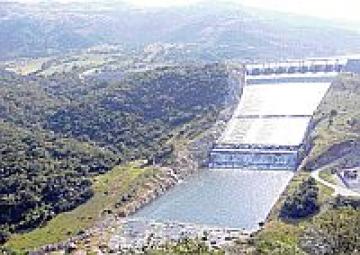 MBABANE – The earth tremor which rocked most parts of the country and parts of South Africa and Mozambique on Sunday evening was caused by Maguga Dam.
Maguga Dam is a dam on the Komati River. It is 115 metres high and is located 11 kilometres south of Pigg's Peak.
The dam was completed in 2001.
According to the country's Geology Department, the epicentre was located next to Maguga Lodge on the banks of the dam.
Maguga Dam has a capacity to hold 332 million cubic metres of water which is equivalent to 332 million tonnes.
According to Dr Noah Nhleko, a senior geologist at Swaziland Geology, the tremor occurred as a result of the underlying rock adjusting to cope with the tremendous weight of the water body.
He further stated that the epicentre was located on a joint which is a point of weakness on the rock or in layman terms, it is a crack in the rock under the dam.
Dr Nhleko said the tremor lasted for about 20 seconds and measured 4.0 on the Richter scale.
A Richter scale is a device which measures the intensity of seismic activity on a scale of 0 to 9.9 being the highest intensity.
Simon Maphanga, the Director at Swaziland Geology, said what the country experienced on Sunday evening was not an earthquake but just a tremor because an earthquake measures from five upwards on the Richter scale.
He also said it would have been impossible to forecast that the tremor would take place.
Maphanga said the equipment currently available can only measure its intensity once it has occurred.
"We may not know whether this was a foreshock or an aftershock but, because Swaziland is on a stable plate (piece of the earth's crust), and we are inland, it is unlikely that this was a foreshock," he added.
... however, lodge sustains no damage
Mbabane – Despite being in such close proximity to the epicentre of the tremor, Maguga Lodge sustained no damage and nobody was injured.
This was confirmed by the General Manger of the lodge, Nyasha Kavhumbura in an interview yesterday afternoon.
She said they all felt the effects of the tremor and the windows rattled.
"Most guests were done eating their dinner and most of the commotion was in the kitchen," Kavhumbura said.
She said they were glad nobody was hurt and no property was damaged. Government Spokesperson, Percy Simelane, also said there were no reports of damaged property or loss of life as of 5pm yesterday.
Police Deputy Public Relations Officer, Assistant Superintendent Stephen Dlamini, also said they had not received any reports of either property damage or loss of life following the tremor.
Tremor was catered for during construction
MBABANE - The tremor that rippled across the country on Sunday evening was anticipated and was catered for in the construction of the dam.
This was revealed by Simon Maphanga, the Director at Swaziland Geology, as he explained that this was the norm in many man-made dams.
"All dams are subject to this adjustment of the underlying rock and they settle over time," he said.
Maphanga added that the Maguga Dam wall was built in such a way that it would withstand such tremors.
One of the senior geologists in the department, Dr Noah Nhleko, stated that there were two seismometers located next to the dam to measure any seismic activity that may occur.
The data would then be interpreted and analysed by the Council for Geo Sciences in Pretoria, South Africa, he said.
Dr. Nhleko, however, said it is almost impossible to predict when an earth tremor will occur because it occurs when the underlying rock releases pressure.
He said it is important to note that the tremor did not occur when the dam was at its full capacity, as such was the case in December, which goes to show just how unpredictable it is.
---
Comments
Oh yes i enjoyed reading the article ''super'' well informed ''LIKE'' TIMES OF SWAZILAND
May 29, 2012, 7:03 AM, Thring Eugene (thringeugene@yahoo.com)
Sibonge majahenkhosi kusikhulula tinhlitiyo live liphephile nanisashakutela ngaloluhlobo majaha. Kumnandzi kakhulu ngoba konkhe sesiyakhona kutentela siMaswati. Hhayi lamatsakelangoti bosikebhe nabo lesisabalungisela timfingo.
May 29, 2012, 7:03 AM, Timothy Mabaso (mabaso.timothy@gmail.com)
I am just curious to know how safe are we from volcanoes?
May 29, 2012, 2:06 PM, sabelo (sabelosimelane26@yahoo.com)
Do you think government should pass a law to exempt medical supplies from taxation?