18 graves dug at Midway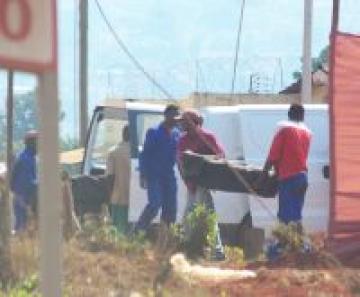 (Student Journalist)
EZULWINI- A total of 18 graves were dug at Midway opposite the Ezulwini Catholic Church and Primary School to give way to a road that is currently being restructured.
This was confirmed by the development officer of the Ezulwini Town Board Dumisa Zwane.
"There is currently a road being re-structured and there will also be a new building that will be erected in the same place where the graves are situated. We decided to have the graves removed in consultation with the families," said Zwane.
The Mbabane Burial Benefit Society has been awarded the tender to facilitate the removal with the consent of the family members and the Catholic Church.
It was gathered that the remains will be re-buried at St Mary's graveyard at Lobamba and most of the graves belong to the Catholic Church members.
At the site, the families of the deceased were present but refused to comment on how they felt about the process. Zwane said the graves had long been a concern and expressed hope that now that they have been removed, they will soon be finishing the project.
The Ezulwini Township was last year awarded an accolade for being the cleanest town in the kingdom by the Swaziland Environment Authority.