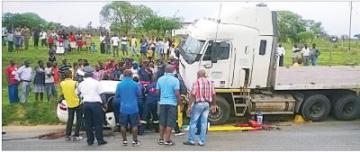 MANZINI – Instead of calling for help, a suspected drunk truck driver, whose vehicle was involved in an accident with a sedan, is alleged to
MANZINI – In what will come as a shock to parents in Swaziland; young people want the age of consenting to sexual intercourse lowered from
...
LOMAHASHA – The condition of the Mbokojweni Primary School pupil, who has been bedridden following severe whipping by two teachers, has aggravated as she has
...
MALINDZA – The smell of burnt flesh and soot engulfed the atmosphere at Malindza Refugee Camp on Saturday morning, after a tent caught fire leading
...
Conditions for Mbabane, SZ at 3:58 pm SAST
Current Conditions:
Partly Cloudy, 27 C
Forecast:
Mon - Thunderstorms. High: 28 Low: 18
Tue - PM Light Rain. High: 25 Low: 16
Wed - AM Showers. High: 24 Low: 17
Thu - PM Thunderstorms. High: 28 Low: 17
Fri - Thunderstorms. High: 26 Low: 17
Full Forecast at Yahoo! Weather
(provided by
The Weather Channel
)
Do you think corporal punishment should be allowed in schools?