HLOBI TURNS TO MUSIC INDUSTRY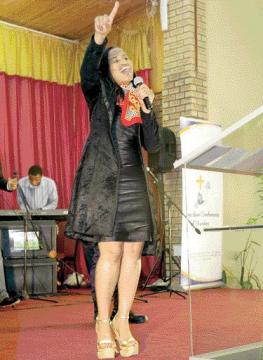 MBABANE - Former Minister of Sports, Culture and Youth Affairs and Pigg's Peak Member of Parliament (MP) Hlobisile Ndlovu has decided to manage various artists in the country.

Ndlovu is currently looking at registering her own company that would be in charge of some of the local artists.
The former MP who failed to make it through to the Secondary Elections after failing to get impressive votes during the Primary Elections said she has discovered that the country has a lot of talent that needs to be unveiled.

She said after spending time in the ministerial position, she discovered that there were a number of people who had talent and would shine in the music industry.
In an interview, Ndlovu said as someone who had decided to be involved in the entertainment industry, she thought it would be a good thing to own a recording company.

"I have since decided that I should begin by managing artists. I am one person who believes in the potential the local artists have and taking them to another level is one thing that I believe in. I believe the country has the potential of shining in as far as the music industry is concerned," she said.
She said while managing artists, she would also be looking at registering her own company.

"As someone who has since decided to be involved in the music industry, I think it is proper that I own a recording company and this is something that has to happen soon. At the moment I would be concentrating on the few artists that I happen to have spotted. I need to make sure that my artists are well recorded and also get proper deals which include gigs that are in and outside the country," she said.

Ndlovu said there were a few artists she hoped to be working with in the near future.
"My intention is to help local artists to be recognised even in other countries. We have the potential of producing the best artists and my intention is to make things happen," she said.

She said at the moment the artists she would be managing would be artists she has personally identified adding that as time goes on, she would then decide on representing others who are interested in her services.
... Rihaga the first artist under her wing
MBABANE – Hlobisile Ndlovu has already identified the first artist to manage.

Upcoming local soloist Khanyisile Ngomane, known as Rihaga, is the first artist to be managed by the former minister. Ndlovu and the artist have agreed to work together. Ndlovu has managed to find a recording deal for Rihaga. Three weeks ago, Rihaga was in South Africa to record her latest album which is produced by Salaelo Selota who happens to be one of the top South African producers.

Selota produces a number of well-known artists and these include Judith Sepuma. The album is expected to be released before the end of the year. Ndlovu said after talking to Selota during Rihaga's recording, she was advised to manage the artist herself.

"Selota told me to manage the artist saying after the recording she would be one of the best artists as she has the potential to sing good music," she said. Ndlovu said she would definitely see to it that the whole recording process becomes a success. "This is my first project to manage and I have to see to it that everything is done accordingly. As a seasoned producer, I believe Selota will do a good job which will be loved by many," she said.

Rihaga confirmed that she has already started recording her album. "So far, I am happy with the whole process. I am expected to leave in the next two weeks as that is when I am booked for the studio. I have been told that the album would be released before the end of the year," she said.