GAWUZELA'S SUPER CROSSOVER!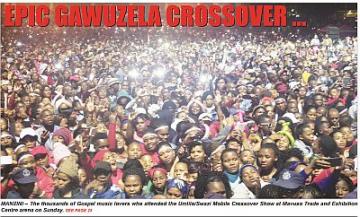 MANZINI – Gawuzela did it again!
This was the 7th edition of Umlilo Crossover and as expected the number of people who attended grew. Last year saw 20 000 people in attendance and this year it recorded over 25 000 people. The massive festival held at the Mavuso Trade and Exhibition Centre brought gospel fanatics from the four corners of the country who all made sure that they cross into the New Year in Gawuzela style. Gawuzela through his company, Umlilo Music had a number of partners join him for the 2017 edition which included Swazi Mobile as the main partner, Amandla Financial Services and South African Gospel mass choir Tshwane Gospel Choir. As per the norm candles were lit just before the clock struck midnight signalling the start of 2018. These saw Mavuso Trade Centre turned into a serene candlelit affair. This time Gawuzela sang his famous track, 'Thuma Mina' as he ushered the masses into the New Year. As the countdown to the New Year continued, lights were switched off and gospel music lovers waved their candles, while in deep prayer. Each person who was there said their individual prayers for their hopes for the New Year.
Countdown
Joining Gawuzela on stage during the countdown and prayer session were guests Bishop Bhekibandla Vilakati, leader of the Jericho Church and the Swaziland National Council of Arts and Culture (SNCAC) Chief Executive Officer, Stanley Dlamini. After the prayer, Gawuzela and his group Mduduzi Nezinceku Zamagagwugawu gave a one hour performance leaving gospel music lovers wanting more. They sang their famous songs which include 'Iyakwehla Imvula', 'Through It All' and 'Siza Ungamubulali'. As the group performed, the excited gospel music lovers danced and sang as they were entertained by the group's dancing moves on stage. Gawuzela thanked all gospel fanatics who supported the event saying he was amazed by the turn up to an event that was always the best.