Phila Sibiya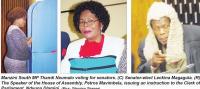 LOBAMBA – Wife to National Commissioner of Police Isaac Magagula is now a senator. Senator-elect Leckinah Magagula was the first of the five women to
MBABANE – On their first task, parliamentarians have defied the courts. Sabelo Masuku, Chairman of the Commission on Human Rights and Public Administration or Integrity,
...
MBABANE - A local company wants to be granted a licence to operate a factory which will manufacture drugs for medicinal purposes using dagga.Umjono (PTY)
...
The incident, which saw several people being injured and property being vandalised, took place on Monday afternoon.A group of about 30 community members was found
...
MBABANE – The entertainment industry has yet again lost one of its own. Following the death of DJ Steel a few weeks ago, the executive
...
MBABANE – You have to be really good at what you do when you get invited to perform on foreign grounds. Afro soul musician, Bholoja,
...
CAPE TOWN - Not all that glitters is gold! This axiom best describes the situation facing businesses with dire interests in cross border trade, who
...
MBABANE - Seven government parastatals have signed an agreement which will lead to accelerated business growth. Yesterday, the seven parastatals signed a memorandum of understanding (MoU)
...
Sir, Many of us are wondering whether we have created institutions that reflect the true aspirations of a society that believes and cherishes the values of
...
Sir, Every relationship has three distinct parts: me, you and us. But when you're dating someone new and amazing, it's easy to get sucked into having
...
WITHOUT a proper resuscitation plan, the economy will go belly up. We are trapped between a rock and a hard place, and unfortunately government's immediate
...
THE word bank, when it stands alone, is mostly associated with financial institutions. But when it is attached with other words, it takes a different
...