Umhlanga dates announced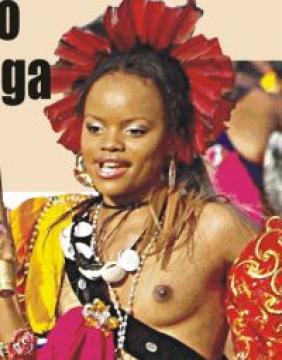 LUZIDZINI – All roads lead to the Ludzidzini Royal Residence next week to mark the beginning of the annual Reed Dance where Swazi maidens are expected to go and cut reeds as a form of paying homage to His Majesty King Mswati III.
Making the announcement Princess Sikhanyiso said it was His Majesty's pleasure for her to make a public announcement inviting young maidens to attend this year's festivities.
She was flanked by Lomsa Dlamini and Bawinile Dlamini.
She said maidens are expected to converge at the Ludzidzini Royal Residence on August 28.
The princess said the maidens would then be commissioned by His Majesty on August 29.
They will spend the night at the different places they will be expected to go and cut the reeds.
"On August 30, 2012 they will cut the reed in areas that are still to be announced. On August 31 maidens will be expected to go back to Ludzidzini.
Dance
"On September 1 the maidens will take a rest and on September 2, they will drop the reeds and on September 3, they will then dance before the King and the Queen Mother and thousands of His Majesty's guests.
Chiefs are urged to make sure that they identify four regiments that will accompany the maidens.
This will help whenever one of the maidens falls sick along the way and the two regiments can be sent to go and report with the relevant authorities about the ailment that attacked that maiden or maidens.
Those regiments accompanying ladies need to know that they are expected to sleep in their own tents and give the maidens the privacy they deserve," said the princess in a press conference that was held at the Ludzidzini Royal Residence yesterday.
The princess made her first announcement on royal command summoning young Swazi Maidens to converge at the royal residence.
In the past the acting leader of Imbali would make the announcement.
Also present during the press conference was Minister of Home Affairs Prince Gcokoma and Imbali Overseer Ntfonjeni Dlamini.