The struggle continues!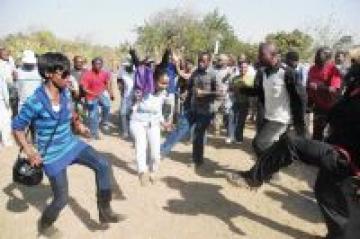 MANZINI – Shouts of Aluta Continua reverberated at the
SNAT centre yesterday, as teachers resolved to press on with their strike action.
Aluta Continua
is a Portuguese phrase, meaning: The struggle continues!
"Let us not labour under the fallacy that something might come up on Monday (the nation has been summoned to the Cattle Byre tomorrow) to change our current situation. History has taught us how we are being perceived as teachers along the corridors of power, and if we could suspend this legal strike, we would be committing a mistake, proposed a teacher before shouting: "Aluta Continua!"
This was met with a rapturous applause from the hordes teachers in approval.
Teachers under the banner of the Swaziland National Association of Teachers (SNAT) yesterday unanimously resolved that their strike action will continue unabated despite intimidation by their employer.
adjustment
The over 4 000 teachers who converged at the SNAT centre yesterday felt it would be very cowardly of them to swap horses midstream and change their heart on the protracted battle for the 4.5 per cent cost-of-living adjustment they are demanding from government.
A teacher who identified himself as Dlamini from Mliba branch of SNAT said developing weak knees at the current stage of the strike, for the teachers, would be tantamount to shooting oneself in the foot.
He said the fact that the strike has been declared legal, with teachers having followed all statutory stipulations concomitant with engaging in a lawful strike action; for them to eventually decide against the industrial action would actually set a bad precedence. Dlamini said such action would engender an unfortunate situation whereby workers would surrender to employers their inherent right to strike, in times of unresolved disputes.
"Please, fellow colleagues do not disappoint me at this very crucial moment by telling me that there is anyone among us, who is now contemplating backing down. No, that will not work at the moment, we should go on with the strike action," he implored.
Meanwhile Muzi Mhlanga, the union Secretary General, war-ned teachers to be very cautious when deciding on the next move pertaining to the strike.
He said they should take their strides carefully because the strike was now at a critical stage.
"Whatever decision that we come up with today should be carefully thought out, and everyone should consider the consequences or impact thereof to our situation, as teachers," he said.
Mhlanga said no one beyond the ranks of teachers should be given, even the slightest of opportunity to stop what they started, as educators.
He said the strike was initiated with a particular goal in mind, and that target has to be achieved before one can start entertaining thoughts of suspending the industrial action.
These sentiments were shared by a vibrant response that was raised in jest from the floor, which touted the date for ending the strike action as 4.5.
It should be noted that 4.5 is the percentage figure that teachers and other civil servants are demanding from government, as a cost-of-living adjustment.
That teachers were gallantly united in their willingness to continue with the fight could not be underestimated.
There was a wild round of applause, which was a response in the affirmative to a question that was posed by Sphasha Dlamini – a school Principal who is also a well known figure in political circles. She asked: "Are we all ready for Waya Waya?"
goal
Teachers showed in their response that they haven't, as yet, given up on their intended goal of making government succumb to their demand.
"This is the time when we are all supposed to be in solidarity. If government is dismissing some of our colleagues, we should all go en masse and demand to be expelled," she declared.
Legal advice from Sipho Gumedze, one of the teachers' lawyers, was that the educators' situation demanded that they psyche themselves, and be prepared psychologically for any possible mind games that could be advanced by government.
Sibongile Mazibuko, the union President was obviously overwhelmed by the response by the teachers, and possibly their vibrancy when deliberating on the issues touching on their welfare.
"Today I have heard that you shall fight until the last atom of your energy," she said, in her valedictory remarks.