Commonwealth wants free Swazis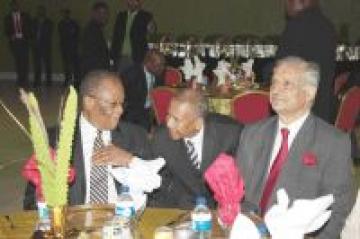 EZULWINI - The Commonwealth says Swazi citizens should be given the right and opportunity to express themselves freely and responsibly.
Kamalesh Sharma, Secretary General (SG) of the organisation, said Swazis should be free to express themselves, especially in next year's elections.
"Next year will be a landmark year for Swaziland in its democratic path, with elections to be held for the second time under the new Constitution. In that regard, a fundamental value to which all Commonwealth members are committed to is the freedom of assembly," he said.
Sharma said it was important to the Commonwealth that all citizens be given the opportunity to express themselves freely especially during the period of elections. He said the media should also be allowed to be vibrant, free and responsible.
He added that the media was a critical element in any democratic culture.
Sharma said this when he addressed the media at a conference convened at the Royal Villas hotel in Ezulwini yesterday.
This was during the conclusion of his two-day visit to the country where he met the Prime Minister, Ministers Mtiti Fakudze, Mgwagwa Gamedze and Hlobisile Ndlovu.
The SG also met with Micheal Ramodibedi the Chief Justice, Chief Gija, chairman of the Elections and Boundaries Committee, Sabelo Masuku, the acting Chairman of the Human Rights Commission and Emmanuel Ndlangamandla, the Executive Director of the Coordinating Assembly for Non-Governmental Organisations among others.
He said his organisation observed Swaziland's last elections in 2008 and made a number of recommendations to government.
"In preparation for the elections in 2013, we have agreed that the Commonwealth will provide new projects of assistance to support the Elections and Boundaries Commission," he said.
He said such help would be on developing guidelines for campaigning, guidelines for the media, technical assistance to develop a civic and voter education manual, and assistance for a computerised registration system.
Sharma said the Commonwealth Secretariat had already provided assistance with a number of new electoral reform Bills which were shortly to be considered by the government.
He said his organisation would look forward to those Bills being debated in the Parliament and enacted before the elections.
Sharma also addressed the contentious issue of separation of powers which has seen a clash between the Prime Minister, Speaker of the House of Assembly and the President of Senate in recent times.
He said the Commonwealth would be pleased to provide assistance in this area.
"We have agreed, in principle, to provide a seminar for all concerned parties on the separation of powers. This will be held in 2013 after the elections," he said.
He also said his organisation had provided assistance to the country's judiciary for a number of years, and this would continue.
"An independent and effective judiciary is fundamental to all Commonwealth members and their societies, as reflected in our Latimer House Principles," he said.
He also said his organisation recognised the unique challenges faced by many of its member states, particularly those with small populations in pursuing their social and economic goals.
He said women and the youth in an ever-younger Commonwealth are a particular concern.
"We therefore must be committed to the real empowerment of youth and women as part and parcel of the development agenda," he said.
He said the Commonwealth was supporting the Junior Achievement Swaziland, a youth initiative aimed at building entrepreneurial skills."We have also supported the work of young people in providing peer support to each other in sharing information and practices on prevention of HIV/AIDS, provided under the Commonwealth's 'Youth Ambassadors for Positive Living' programme," he said.
Sharma said this programme was piloted in Swaziland and he welcomed the advice of Hlobisile Ndlovu, Minister of Sports, Culture and Youth Affairs that the programme be enlarged nationwide.
---
COMMENTS:
Well done Sharma this is what I feared you will unearth in the kingdom that staunch supporters of the status quo guarded with jealousy. Thank you for being upfront on the issues that matter, I hope everyone understands that gobalization from the political, economic and social fronts subscribes and promotes transparency in all fronts, and as governments we have to embrace these reforms. This should pave way to a new dispensation in this country that upholds pluralism, a system far superior to Tinkhundla. As for judiciary, Commonwealth to help us deal with the perception of unholy alliance with the executive arm of government; as this is killing the confidence in our justice system.
December 8, 2011, 5:00 am, Burns Dlamini (Lobhoncela) (Burnspolitics@gmail.com)
Poll: Stealing Babies
Does the fact that a newborn twin was stolen from a ward at Raleigh Fitkin Memorial Hospital make you think twice about giving birth in a hospital?