King summons Nation!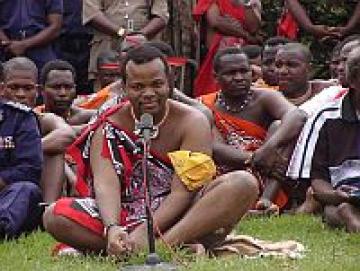 MBABANE – His Majesty King Mswati III has summoned the nation to converge at Ludzidzini Royal Residence Cattle Byre on Monday morning.
Timothy Velabo Mtetwa, the acting Ludzidzini Governor, made the national announcement yesterday.
Mtetwa said: "The King is calling the nation to converge at Ludzidzini Cattle Byre on Monday at 9am."
He further stated: "This is a fundamental announcement from His Majesty and all those who call themselves Swazis from all the four corners of the Kingdom should heed to it."
The acting traditional prime minister stressed that it would be against culture and tradition for him to speculate on the agenda of the national meeting.
Mtetwa, 88, said it would be in the best interest of every citizen to heed the summons so as to hear for themselves what the King had to say.
He, however, said Monday would not be a public holiday.
"Employers are fully aware of what is expected of them when the King summons the nation to the Ludzidzini Royal Residence Cattle Byre," he stated.
His Majesty, who acceded to the throne in April 1986, last summoned the nation to the Ludzidzini Cattle Byre in 2008.
This was when he announced the re-engagement of Sibusiso Barnabas Dlamini as the country's Prime Minister.
As the Head of State, the Monarch reserves the sole prerogative to formally summons the nation to the Ludzidzini Royal Residence Cattle Byre to either promulgate the dissolution of Parliament, sacking of Prime Minister and opening of People's Parliament among other issues.
The King is the Chairman of Sibaya.
Speculation is rife that the King, who normally advocates for dialogue as opposed to confrontation, will address the nation on key issues like the spate of protest actions and respect in general on Monday.
His Majesty is expected to have a meeting with the transport operators at Lozitha Royal Palace on Wednesday.
---
COMMENTS:
People anxiously waited for the calling of Sibaya and now they are worried about the agenda. I would not like to pre-empt the King but I suspect it's about the appointment of a new PM. If this comes out to be true, I'm afraid the people will not celebrate as they would be aware that their problems will not just vanish. There had been a widespread public disquiet about the system of governance not individuals. The protests engulfing the country are not about lack of respect but they are propagated by the economic, social and political difficulties faced by the people especially the working class. In 2008 people came back dejected and I hope this time they will be over the moon about the King's message. Bayethe.
Aug 1, 2012, 5:24 AM, Banele (gudlizintaba@yahoo.com)
BAYETHE WENA WAPHAKATHI!you have summoned the nation at the right tym,please come to our rescue Ngwenyama safa.sicela usijabulise this tym around.Bayethe.
December 8, 2011, 1:01 am, Tsutsu

The lion has finally roared. Hope the cry of the nation will attended to. We have been waiting for this call. Bayethe!!...
December 8, 2011, 1:00 am, Zinjazikhamunwabu
Whether you are called to the cattle byre or not nothing is going to change. All that is needed is total overhaul of the system which has the potential to be manipulated for corrupt, selfish and self serving tendencies. It is high time swazis open a serious debate about the best possible system of governamce, without any fear of victimisation; as that fear breeds a total hatred about anything associated with tinkhundla, notwithstanding any dot of possitivity.
December 8, 2011, 1:01 am, sibonginhlanhla (ndlamini59@yahoo.com)
I hope Swazis will be bold enough this time to say that its time for Swazis to elect their own PM an his cabinet into office. this is what causes the unrest in Swaziland because the PM and his cabinet are not serving the interest of the people because they were not voted into office. they never campained for the post they are occupying hence we are never sure of their cpability to serve effeciently in such critical offices and we are also not sure if they really want to serve in those offices or were they forced to serve because we all know they were 'bulawaed'. a PM and a cabinet that has been voted into office will perform better because they will want to please the voters in order to be voted back to office by making sure they serve the interest of the masses.
December 8, 2011, 1:01 am, gatshedze (mangalisomagongo@yahoo.com)
BAYETHE,we have been wait for so long for this surmon from the majest
December 8, 2011, 1:01 am, Gwaja mjororo
Bayethe wena waphakathi yoh! its has been a long wait though im just happy the King has finally called the nation.
December 8, 2011, 1:01 am, Lindelwa (linxnxumalo@gmail.com)
We are happy to hear that and i personally encourage people to attend without fail,though its been quite some time he last summon us.Asetsembe kutawucatululeka tonkhe tinkinga.
December 8, 2011, 1:01 am, Nkosikuphela (armstrong.dlamini 2@gmail.com)

Let da king appoint a new prime minister so dat the country can come back into order,going 2 Ludzidzini while we trying means of leaving as da government dont want 2 p;ay wil waste our precious time......period.police,corretional services,soldiers nd those old gogos n mkhulus let them go to Ludzidzini


December 8, 2011, 1:00 am, Thabiseng Dlamini (thabodlamini@yahoo.com ) []
Bayethe wena waphakathi...! I personally think the king's call was long overdue as the nation was in a dilema over the unrest in the country but thanks God-finally, he has to call the nation just to show us that he cares. No matter what the agenda is, the fact that he will have a say on this impasse will motivate us all to attend incwala this year to show our gratitudes. Umncugulu
December 8, 2011, 1:00 am, Dlamini Lucky Q. (dlamnlqd@yahoo.com)
Poll: SADC Ministers Meeting
: Do you think the idea of the SADC ministers, to standardise salaries across the board for all SADC countries, is a good one?