PM, ministers register for elections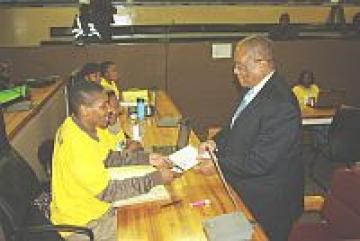 MBABANE - Cabinet ministers residing in Mbabane, including the Prime Minister (PM) Sibusiso Barnabas Dlamini and the Deputy Prime Minister (DPM) Themba Masuku, yesterday took some time off from their schedules to register for the upcoming urban government elections.
They momentarily left the weekly Cabinet meeting at Hospital Hill to register at the Mbabane Municipal Council chambers.
The ministers who registered included Minister of Natural Resources and Energy Princess Tsandzile, Minister of Urban Housing and Urban Development Lindiwe Dlamini and Minister of Information, Communication and Technology Winnie Magagula.
More notable figures at the registration included Principal Secretary in the Ministry of Housing and Urban Development Clifford Mamba, Mbabane Mayor Zephaniah Nkambule, Public Information Officer Bongani Dlamini and Mbabane City Council officials along with some senior government officers.
Speaking shortly after completion of the registration of the PM, Minister Lindiwe applauded her Cabinet colleagues for sparing a moment in their busy schedule to register for the local government elections.
"The registration of the Prime Minister and Cabinet ministers in the local urban government elections will definitely encourage other citizens residing in different towns across the country to register for the local government elections," said Dlamini.