29 unions to picket in support of strike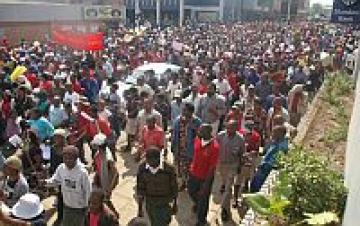 MANZINI – At least 29 labour unions affiliated to the deregistered Trade Union Congress of Swa-ziland (TUCOSWA) resolved to picket at their workplaces in solidarity with the teachers, nurses and civil servants' strike beginning tomorrow.
The resolution was taken at Caritas yesterday where the Congress' National Executive Committee had a meeting.
At least 17 unions were represented in the meeting and agreed unanimously to show solidarity to the teachers. The key phrase was 'an injury to one is an injury to all'.
The meeting was chaired by First Deputy President of TUCOSWA Sibongile Mazibuko.
Mazibuko, in an interview, said the unions resolved not to take govern-ment's threat to expel teachers who engaged in a strike action lightly.
Besides the public sector, unions affiliated to TUCOSWA are in the textile industry, plantation sector, transportation, electricity, telecommunications as well as financial sector.
"They will be picketing at their various workplaces because they are affected directly and indirectly by government's failure to resolve the issues causing the strike. They said it was their children who are out of school," Mazibuko said.
She said various TUCOSWA members would only picket during their lunch hour.
She also said TUCOSWA resolved that on Thursday the leaders of the Congress would deliver a petition to the Prime Minister Sibusiso Barnabas Dlamini.
Stay-away tomorrow
MANZINI – Public sector unions resolved to embark on a stay-away beginning tomorrow, until government adhered to their demand for a 4.5 per cent salary increment. 
The unions are the Swaziland National Association of Teachers (SNAT) and National Public Service and Allied Workers Unions.
The Swaziland Democratic Nurses Union (SWADNU) was interdicted by government from embarking on a strike action last week, but during a meeting on Friday, the members resolved to also go ahead with the strike.
SNAT President Sibongile Mazibuko said the public sector unions resolved not to stage a mass demonstration but elected to leave much of the logistics to regional leaders.
"The regional leaders will decide what they want to do during the strike," Mazibuko said.
She said the strike, that would begin tomorrow was legitimate and no one could force teachers to teach.
Meanwhile, Mazibuko said teachers would go to schools to register their presence today and then continue with their regional 'vusela' consultations.
... Make us an offer – teachers tell govt
MANZINI – Teachers have challenged government to make them an offer so they return to the negotiating table and review their indefinite strike action which resumes tomorrow.
President of the Swaziland National Association of Teachers (SNAT) Sibongile Mazibuko claimed government was not telling the truth that teachers shunned negotiations.
She said the strike was legitimate in that teachers received a formal certificate of unresolved dispute from the Conciliation, Mediation and Arbitration Commission (CMAC).
"The normal recourse of a dispute resolution is that we will either go back to the negotiating table when we are convinced that government has no money or when government has an offer to make.
"For now we are not convinced that government does not have money because Finance Circular No 1 of 2010 is still in place. We have checked with CMAC on numerous occasions to find out if government has made any offer but it hasn't," she said.
Mazibuko begged to differ with the Prime Minister Sibusiso Dlamini and Minister of Labour and Social Security Lutfo Dlamini that teachers had not fulfilled all obligations for a lawful strike.
"We are not shunning the negotiations too, as they say. We have exhausted all the legal steps. It is also not true that we are talking politics as they say. To demand the withdrawal of Circular No. 1 as we are doing does not amount to talking politics.
"All we are saying is that as long as the PM got a double pay of E112 000; the police get E22 million budget and ministers get high telephone allowance, we are convinced the money is there to finance the 4.5 per cent increase," she said.
Meanwhile, government spokesperson Percy Simelane said: "Civil servants, including teachers, know how and where to present their case, which is the negotiating table.
"I am not aware of any position towards making an offer on govern-ment's part. However, I believe government's negotiations team would communicate to them whatever position if they met," Simelane said. 
---
Comments
Teachers shoUld nOt bE scared about the PM.'s threats. Chubekani.until u get what u want.so he must stop talking lies ngoba yena wesutsi.our parents are suffering out there.
Jul 24, 2012, 7:07 AM, Nomsa Noks siwe tshabalala (nomsa mabuza@1 facebook.com)
Lafa elihle kakhulu " this is very true to all the events that are happening in Swaziland. What must happen for the Government to notice and realise that enough is enough. The teachers have taken a stance and they will not compromise it. Is this happening because most of the rich children are in private schools and they dont feel the pinch ? No one cares about the poor teachers and poor Swazis who cant afford private education. I have never seen nor heard such rubbish in all my schooling in Swaziland. We are where we are because of the once solid education. The outside world will never take Swazi education seriously. It will be like what is happening in Mugabe's land . No one believes the authenticity of their education and qualification. There will be an exodus of teachers to South Africa and Swaziland will suffer a blow that may not be fixed in a few years.
Jul 24, 2012, 7:07 AM, Stundu Simango (israel@mtn.blacberry.com)
Teachers should just go back to class, they should not allow opportunists to use them
Jul 24, 2012, 7:07 AM, qondz (qomndzebele)
Swaziland has turned to something else just because government doesnt want to reason...pay our parents please!!!!!!!!!
Jul 24, 2012, 7:07 AM, anonymous (2012050176@solusi.ac.zw)
The soul of this country has been destroyed by this gov't. My heart bleeds. What have we done to deserve this PM and his cabinet? What more damage can he do because he's destroyed everything which we all care about. Everything! There's nothing to lose because he's taken everything which matters to all Swazis., their pride and their dignity. We're a laughing stock everywhere because of this government. Ewu, sekhuta Lwandle bekunene. Sekubi kakhulu baka-gogo. Lasha live lemakhosi, lishiswa tifundziswa letifaka bo-thayi nemafal'kigi.
Jul 24, 2012, 3:43 PM, Swazi Patriot (swazi@patriot.com)
 
 
Poll: SADC Ministers Meeting
: Do you think the idea of the SADC ministers, to standardise salaries across the board for all SADC countries, is a good one?