SUFIAW consults on strike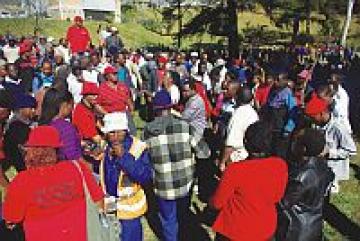 MBABANE – Employees in the country's financial sector are discussing what action to take in relation to the ongoing strikes by teachers and civil servants.
They claim that the strikes have had a negative impact on them because civil servants are no longer able to service the loans they have with the banks.
"Members will appreciate that the longer it takes civil servants to return to work, the more difficult for them to service their loans with the banks and this is bad news for bank employees," reads a notice sent to SUFIAW members. The members of the Swaziland Union of Financial Institutions and Allied Workers (SUFIAW) have been called to give guidance to the national executive committee on how they suggest it should react. The statement reads, "We are noting with great concern the lack of political will on the part of government to resolve the issues in dispute. All we have heard so far are wreckless statements from government that do no more than compound the situation."
SUFIAW Secretary General Jabu Shiba said they had not yet received any feedback from their members . She said they were hoping to get responses by the end of the week. "We will check with the shop stewards if the people are making suggestions because we have not stipulated any time frame for this process," she said.
Shiba said it would not be prudent for her to disclose their views on the situation at executive level.
"We may have met about this as members of the committee but we also want to throw it to the members to voice out their suggestions," she said.
When asked how the current situation affected them Shiba made an example of the 33 per cent salary cut that was implemented on teachers' salaries who allegedly participated in the strike and said this deduction alone makes it impossible for a person who has a bank loan to service it with his or salary. She said this was not healthy for any financial institution and mentioned that all SUFIAW wanted to do was to find a sustainable solution to this problem.
Do you think government should pass a law to exempt medical supplies from taxation?