Police beat us up, pupils claim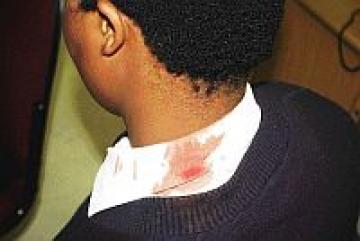 MBABANE – Pupils from St Mark's and Mater Dolorosa High Schools were allegedly beaten up by police yesterday as they tried to deliver a petition to the Ministry of Education and Trainng with their concerns over the indefinite teachers' strike.
The pupils alleged they were harassed and beaten up by police officers who also hurled insults at them.
Six pupils allege they were injured.
The pupils were walking from KaSchiele High School, where they had intended to get representatives from the school's pupils to join them in delivering the petition to the ministry. However, after being refused permission to enter the KaSchiele High School premises by police officers on guard, they obeyed and turned back, they alleged.
On their way back from the school, the pupils alleged they were met by a police van from which some police officers alighted and hurled insults at them before assaulting them.
Police Public Relations Officer, Superintendent Wendy Hleta, confirmed that some pupils were turned back while they were going to KaSchiele High School to get other pupils to join them in the march.
However, she said she had not received any information to the effect that they had been assaulted by the police officers.
The pupils decided to take the petition to the ministry because they have not been learning for the past three weeks.
They wanted to call for the ministry's immediate intervention.
The most concerned pupils are in Form III and V, who will be writing external examinations shortly.
In the petition, addressed to the Minister of Education and Training, Wilson Ntshangase, the pupils expressed their distress over the prevailing situation.
According to the pupils, it is their right to learn and get proper education.
They claimed the ministry did not seem not to care about the ongoing crisis.
---
Comments
The poor police shem! Beating these toddlers for exercising their right! They did not vandalize any property, they just want to learn. Your Majesty, its time you intervene, we appeal to you wena waphakathi. The children that are being abused are your children too, they are future of this kingdom, they are leaders of Swaziland. Even your police sekadzabuke tindlebe wena waphakathi. Wendy why is she always defending these brutal police? They are always caught on the wrong side of the law. Even the commissioner of police himself sowungenwe manga. Kantsi vele kwentenjani? Enteni emaSwati? Has the PM issued warning to the police and warders that they will not get their salaries if they have not spillt blood from innocent civilians? I am sick and tired of this Tinkhundla's forces state. Let their deeds follow them and haunt them when we are grounded to our freedom.
Jul 17, 2012, 2:21 PM, Zinjazikhamunwabu (cyah.khumalo@gmail.com)
What is happening in this small country of ours, the police they jst do wat they want 2 us and its like our gov enjoys this. How can u assault your own child when trying 2 fight 4 their right. Kumbe anati EDUCATION is a ryt to humans
Jul 17, 2012, 2:21 PM, longafeli ngekhatsi
This is stupidity at its highest phela!! This was a peaceful march. Labantfawana laba bebati hambela and then the police men hit them. This shows nje kutsi lama phoyisa alibele nje nx sis! They disgust me!!!
Jul 17, 2012, 2:21 PM, wiz khalifa