Qhawe guilty but walks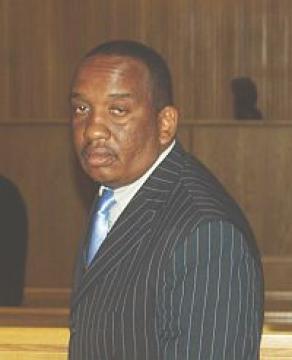 MBABANE – Yesterday was a day of mixed emotions for Channel Swazi TV boss, Qhawe Mamba, who was found guilty and sentenced to eight years imprisonment for E17 million fraud and money laundering.
However, the 46-year-old Mamba is a free man at least until November 2012.
The verdict, in the case where Mamba defrauded the public over E17 million using the Channel S Club, was delivered by acting High Court Judge Philip Levinsohn in the presence of a half packed gallery.
Levinsohn suspended four years of the sentence and further extended Mamba's bail pending appeal.
This effectively means Mamba 'walks' until the next session of the Supreme Court in November.
Mamba will effectively serve a four-year prison term if the Supreme Court dismisses his appeal.
Mamba was acquitted on five charges.
He was also convicted of money laundering in that he and his company, Ultimate Swazi Productions used money solicited from proceeds of a crime.
The usually jolly former King's praise singer arrived in court in the company of his sister Nonkululeko Ndzinisa and daughter Nqobizwe around 9:20am for the case which resumed at 10am. Before the beginning of the case, Mamba, not in his jolly mood, sat quietly on one of the benches along the High Court corridors.
He was represented by lawyer Simanga Mamba in the case, while Advocate Francois Joubert and Crown Counsel Sikhumbuzo Fakudze appeared on the state's behalf.
Judge Levinsohn found that Qhawe was the kingpin and mastermind behind the pyramid scheme called the Channel S Club. He said the Crown had proven beyond reasonable doubt that Qhawe had committed fraud.
He said Qhawe, through the Channel S scheme, promised members of the public three times more returns if they paid to join the scheme.
Judge Levinsohn also found that Qhawe made false representations to the public and used his Channel S TV station to solicit membership from the public. He said Mamba had a hand in devising the adverts that invited the public to join.
"I agree with Joubert that Mamba (Qhawe) was a kingpin. A committee was formed, but it was a window dressing disguising Mamba's (Qhawe) full control. I accept the Crown's Wellington Motsa's evidence that Mamba (Qhawe) was the CEO," he said.
Judge Levinsohn said Qhawe never invested the money and if it were to be said he was going to fulfil his tripled promises to the club's members, the funds would run dry, because the 'inflow would not sustain the outflow.'
"This was a typical pyramid scheme. Mamba (Qhawe) would have been aware that the scheme was fraudulent. I reject the defences' version that he hoped that he'd fulfil the promises. The scheme was fraudulent," Levinsohn said.
He said members of the public were prejudiced to the tune of E17.7 million. He said Qhawe used the club's money to finance private and personal expenses, such as purchasing flashy cars.
He said Qhawe used over E700 000 from the club's coffers and put it up as security for his BMW 7 Series. He said Qhawe also used the members' money in paying up the instalments at Nedbank Swaziland.
He paid E49 000 for the car, the judge said.
In mitigation, Qhawe's attorney asked for a suspended sentence because his client was involved in social responsibility supporting needy children and was a breadwinner supporting his over 90 year-old mother Princess Sifuga. Simanga also said Qhawe had eight children and a wife.
He said his 20 Channel S TV employees would be left in the cold should Qhawe be incarcerated.
Present during the case was Qhawe's mother Princess Sifuga, Princess Ntfombindze and other members of the royal family. As soon as the sentence was delivered, Mamba wore his usual smile again.
He was seen hugging his family members and supporters on their way out of the courtroom and was even able to crack jokes about the case.
He took time to pose for pictures for journalists including those from his TV station.
Mamba's good behaviour was his ticket to 'freedom'
MBABANE – Qhawe Mamba's good behaviour while on bail was the ticket to his freedom, though convicted.
Acting High Court Judge Philip Levinsohn yesterday extended Mamba's bail conditions pending his appeal.
After pronouncing the verdict and eight-year sentence, Levinsohn asked Qhawe's lawyer Simanga Mamba if they would be appealing, to which he did not negate.
"I think he (Qhawe) has had a good track record and attitude at trial," Levinsohn said.
He said Qhawe had abided by the bail conditions and was always present for his trial. He ordered that he should continue enjoying his liberty until he appears before the Supreme Court for his appeal.
He also said if Qhawe would lose his appeal he would surrender himself to the Registrar of the Supreme Court immediately, to start prison life.
Qhawe was admitted to bail after having paid E50 000 cash.
The judge ordered the Channel Swazi TV boss to, in the meantime, report to the Manzini Police Station every Friday of a fortnight and to seek permission from the investigating officer whenever he wished to leave the country.
He directed that Mamba should file a notice of appeal not later than close of business today; otherwise the bail extension would be lifted.
Ultimate Productions fined E20 000
MBABANE – Ultimate Swazi Productions, Qhawe Mamba's company has been fined E20 000 for money laundering.
Mamba had been co-charged with his company for committing the offence in that between July 1 and December1, 2008 it engaged in transactions, on various dates, that involved proceeds of crime, knowingly.
In his judgment, Judge Philip Levinsohn sentenced the company to pay a fine of E20 000. He sentenced Mamba to eight years in prison, jointly for fraud and contravening the Money Laundering Act.
Crown pushes for lengthy sentence
MBABANE – The Crown had advised Judge Philip Levinsohn to impose a lengthy sentence on Qhawe Mamba.
Advocate Francois Joubert had told the High Court that Mamba had committed serious offences, fraud and money laundering. He made the statements in response to Mamba's mitigating factors that a suspended sentence or lighter one was appropriate because he had even offered to repay the amount defrauded.
Qhawe's lawyer, Simanga Mamba, had also said Qhawe was a first offender and a responsible man in society.
Joubert said Qhawe was an arrogant person as he had ignored the Central Bank of Swaziland's calls to cease the deposit taking. He said he did not seem respectful of the law considering that he also changed his versions during trial.
"His non-previous convictions should not take away the fact that this is a serious offence. He is a very articulate man; that is why the scheme flourished. A lengthy custodial sentence is appropriate in the circumstances. The sentence should be such that he does not commit fraud in the future. My Lord, there is also no concrete suggestion on how he would repay the amount," Joubert said.
He said the prospects having the money repaid was close to zero, because the bank could only come up with about E4.5 million from the attached items and cash that was in the bank. He also said if the court decided to impose a suspended sentence, the suspended portion should not be substantial.
"The public should know that Qhawe has been punished. This matter is of public interest; otherwise it will send a wrong message to the public. It is necessary to deter others from committing such offences," Joubert said.
---
Comments
I think Qhawe deserves to be granted bail and walk free. Who is worse between those guys who stole E50 million and are nowhere to be found? At least Qhawe was doing something that somehow benefited the nation. Let Qhawe do what he knows best, the country will never see successful people simply because if a man has a vision it is taunted down instead of modifying the vision and make it legal. How can you rip off a man his TV studio?, I mean the very same TV station that gives Swazi Tv a competetion to do better.
Jul 10, 2012, 8:12 AM, Cyril Magagula (cyrilmagagula@yahoo.com)
Just leave Mr. Mamba alone!!!!!!!!!!!!!
Jul 10, 2012, 8:12 AM, Sniper (sakhilepkhumalo@gmail.com)
But we know how things work in Swaziland...Usukaphi kubo E50M mxm
Jul 10, 2012, 8:12 AM, Never Mind (pdd@702mail.co.za)
This is very bad, lemali yemaswati ke yona itobuyiswa yini? what about diamonds Africa where people also invested a lot of money. why is the central bank not delivering on their promise. Swazis were made to fill claims forms so to say, but till today kute lowabhadalwa. maye vele this thing is painful.
Jul 10, 2012, 8:12 AM, Lucky (bear.ltn@yahoo.com)