Teachers vow to defy court again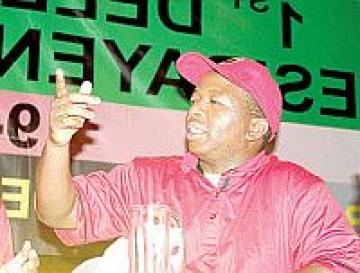 MBABANE — The teachers' 'Waya Waya' strike goes ahead today.
The indefinite protest action is expected to enter day 12 today despite a court order issued yesterday stopping it.
The decision to proceed with the protest action was taken at a meeting of the Swaziland National Association of Teachers (SNAT) executive committee last night.
Sources in the meeting said teachers will be expected to proceed with 'Operation Vusela' until Thursday where there will be a mass meeting to discuss the court order.
'Operation Vusela' involves teachers at branch level going from school to school calling on non-striking teachers to join them.
In an interview last night, SNAT Secretary General, Muzi Mhlanga, confirmed that they would not be returning to class just yet. However, he said that does not mean that they are on strike.
"We will not be on strike but we will be convening meetings," Mhlanga said.
He said they are also awaiting a copy of the court order stopping the strike and they expect to receive it around noon today.
He added that the oral court order was in legal jargon so they would be able to comment once the hard copy was in their possession.
Mhlanga also confirmed that there will be a teachers' mass meeting on Thursday.
"The SNAT General Council cannot decide on the way-forward. Instead, members should meet to discuss what the next step will be," he said.
Teachers ordered back to class
MBABANE — Government has ordered all teachers to return to class today.
In a statement issued by Government Press Secretary, Percy Simelane, yesterday following the court's ruling on the strike, government said it was committed to sitting down with the teachers to discuss their grievances but in the meantime he urged them to comply with the court order.
He said the Industrial Court's ruling should be respected by everyone.
"We want to believe that on the issue of contempt of court, the cited teachers who have been asked by the Industrial Court to show cause why they should not be locked up for 30 days in that they continued with a strike which the court had declared illegal three weeks ago, will comply," reads the statement.
We will not be intimidated - cops
MBABANE – Concerning the ongoing teachers' indefinite protest action, police said they shall not be intimidated by anyone and would continue to be present during the demonstrations.
Police Commissioner Isaac Magagula said they were surprised to hear some people saying police were abusing teachers during the protests.
He blamed such insinuations on the meeting intended for parents that was held last Wednesday at Bosco Skills Centre in Manzini.
"To me, that meeting was meant to worsen the situation, not find a solution. Police won't be intimidated but will continue with their duties. We will protect the teachers who want to work and also protect the pupils. There is no way that police are abusing teachers," Magagula said.
Further, he said: "Police are not animals, but are there to protect the public. As we speak there is an officer who was injured when a stone was thrown at him. Police will enforce the law and the public must obey it to avoid confrontation."
Adding, he said teachers should think of the pupils who are missing out on their education and warned that it was deleterious to involve the children in the protests.
---
Comments
Why is the government refusing to pay teachers coz soon there will be recruitment of forces. Where will that money come from if there is no money.Teachers should continue with their strike, one thing 4 sure the police will only hurt the the body, angeke awutsintse umphemfulo, nome bangawutsintsa kepha uwobutwa kuyo. I promise, nitoncoba if you will continue with the strike other than going back to class.Viva SNAT viva.
July 9, 2012, 9:01 AM, MBONGISENI (mbongisenimuzikhumalo@gmail.com)
I think government is losing the point here. The important victory will be to see all parties leaving the negotiations table happy, not victory of court cases. Our children will not get good education from angry teachers. Government should address the issue of the cost of living adjustment and salary increment instead of bullying the protestors. The people are taxed to the bone yet salaries remain unchanged, why? Why do we continue with capital projects like the airport, science park, etc if we can't take care of urgent human needs. To me this is utter selfishness. Government fails even to put an offer on the negotiations table, this is a sign of total disregard of the civil servants, that no matter what they can do the politicians know they are a power on this land, what they say goes, irespective of what the people say. It's a shame.
July 9, 2012, 9:01 AM, Unsolved Problem
Do you think the government is actively taking steps to silence its critics by refusing certain people access to the national broadcasters?