Elangeni principal canes sugar daddies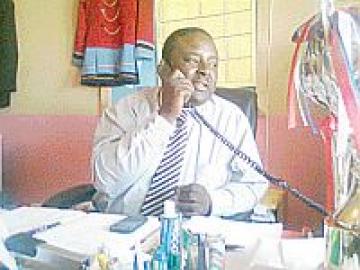 ELANGENI - A school principal has adopted a ruthless principle to deal with 'sugar daddies' who prey on pupils.
Elangeni High School Principal Edward Khayoni whips the men in his office and humiliates them in the morning assembly.
Khayoni, in an interview, said he had dealt with three such cases since the school was established in 2007.
In one case, he said he caned the culprit after discovering that he was dating a Form I girl.
He said he gave the 'Casanova' a choice between three forms of punishment. The first being the caning or doing manual work around the school or standing before the pupils and apologising. He chose the lashes.
In the two other cases, he said the men were married but flirting with the school girls.
"They chose whipping, but I decided to be merciful because they apologised," Khayoni said.
He said, as a school, they have incorporated into the rules and regulations a principle to either cane or force offenders to perform manual work.
This includes summoning the man's wife to the school, if the offender is married.
"The offenders are given any of three options to choose from," he stated. "Once the individual is caught and it is confirmed that he is going out with the pupil, he is summoned to appear before the school authorities immediately."
Khayoni, a former teacher of Mhlatane High School, one of the strictest schools in the country, said he had been inspired by erstwhile principal in that school, Michael 'Waqunga' Dlamini.
"I had the opportunity to work under Dlamini's leadership deputising him, which is where I got to learn leadership skills and principles," Khayoni related.
He said Dlamini has been his mentor and he still looks up to him even today.
According to Khayoni, these principles were effective at Elangeni and both schools share similarities.
He said disciplining the culprits was a means to discourage them from going after pupils.
Khayoni said the pupil involved was also not spared from the punishment.
How much are you planning to spend on Christmas gifts and festivities this year?