Riverstone heist's E100 000 recovered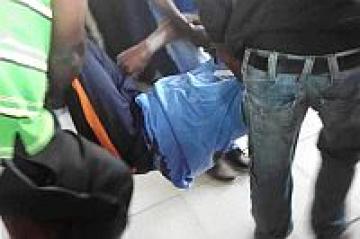 MANZINI- In a major breakthrough in the Riverstone Mall heist case, the police have recovered around E100 000 of the E1 million that was allegedly stolen on Monday.
The money was found hidden in the ceiling at a homestead at Lobamba on Wednesday morning. The Royal Swaziland Police believe that the cash is part of the E1 million stolen after two security guards were shot at the Riverstone Mall in Manzini.
Impeccable sources said the E100 000 was found in the house of a relative of one of the suspects.
The owner of the homestead is actually related to the suspect who was shot in the leg during the robbery. The police, however, declined to confirm the amount saying revealing specific details would jeopardise the investigation.
Police Deputy Public Relations Officer, Assistant Superintendent Stephen Dlamini, confirmed that a breakthrough had been made by the police in the matter three days after the crime was committed.
"Although we cannot mention figures, I can confirm that some of the stolen money was found at a certain homestead where one of the suspects stayed at Lobamba on Wednesday morning. When the money was retrieved by the police, there were occupants in the house, but none of them were the suspected Riverstone Mall robbers," Dlamini said.
Assistant Superintendent Dlamini also said the money was currently being kept at the Manzini Police Station as it was now an exhibit.
He declined to reveal what made the police certain that the money was part of that stolen during the robbery.
"The police are still investigating the matter and once again we urge the public to continue working hand in hand with the police so that the suspects behind the heist are apprehended," Dlamini said.
The sources revealed that the homestead where the money was found belonged to the grandmother of one of the robbery suspects.
Standard Bank Managing Director, Tineyi Mawocha sounded shocked yesterday when he was asked if he was aware that part of the money had been recovered. He said he had not been in the office the whole day yesterday and he hoped to get an official report once he went there.
A guard, William Tsabedze, from Cash Security Services, was killed during the incident and his colleague Sibusiso Malindzisa was seriously injured.
Malindzisa was rushed to Milpark Hospital in Johannesburg, South Africa after his employer put up E250 000 for his medical bills.
On Wednesday SWAKI Property Manager, Theo Hlophe confirmed that the robbers were positively identified by the police through the CCTV cameras.
---
Comments
Siyabonga kusukumela etulu kubafana bembube, kepha siciniseko siphi nje kutsi lemali ngulena yekwebiwa. Mine day after day etindzabeni ngiye ngive kutsi kubanjwe bantfu nensangu kuyobe yensangu lemali akuphenywe majaha kabanti.
Jul 6, 2012, 5:40 AM, Lalekabheni (lalas@gmail.com)
My prayers go for the security guard who lost his life! May his familiy be comforted and his soul rest in peace! some good work RSP!
Jul 6, 2012, 5:40 AM, vusi magagula (magmu@realnetco.sz)