Strike causes schools shutdown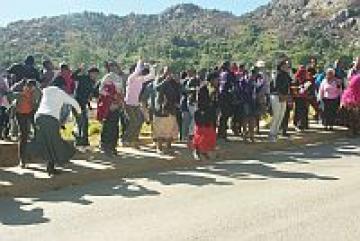 MANZINI – There was mayhem as the 'Waya Waya' teachers' strike continued yesterday resulting in numerous schools around the country being forced to suspend classes.
During a meeting yesterday morning, members of the Swaziland National Association of Teachers (SNAT) resorted to forcing defiant teachers to join them in the protest calling for a 4.5 per cent increment despite the order issued by the Industrial Court stopping the protest action.
It was resolved that the whole of this week teachers partaking in the protest would go school by school forcing unwilling teachers to partake in the strike action.
"We will draft a programme of action with the list of schools we will start with. The executive is going to zone the schools according to the areas. However, today (yesterday) we will start with the ones around town and force the teachers out of the classrooms," one of the members said.
About 500 teachers met at the SNAT Centre and divided themselves into groups of about 50. They are said to have resolved to use force and violence to be heard. They also made an announcement and threatened the police not to interfere in the proceedings of the meeting.
"There are vultures out there who are conducting classes as normal while we are protesting for the 4.5 per cent which they will also receive if things go well. They will go to the ATMs and easily 'steal' our 4.5 per cent," another teacher alleged. "That will not be allowed. They have to be forced to stop teaching from today onwards," the teacher added.
They first headed to Manzini Central Primary, where classes were going on as usual, and demanded the teachers at the school to abandon classes and join them. The teachers at the school went outside and joined in the march to the next school.
Some pupils were outside when the incident occurred. They ran in different directions shouting that they wanted lessons to continue, while about 10 traffic police officers, together with OSSU officers, arrived at the school. That was when the pupils felt provoked and started throwing stones at them.
The police officers tried stopping them, but they continued and eventually stopped after the police threatened them. Other pupils were spotted standing on top of the roofs, singing songs which were against the police.
The pupils eventually calmed down after all the police officers and teachers had left the school.
The SNAT members walked about seven kilometres from Manzini Central Primary School to their next targeted school, St Pauls, but the school was closed
The police, led by Mafutseni Station Commander, Cruiser Ngcamphalala, who was in charge of the operation, tried blocking the teachers at the school's main gate as they left, wanting to address them.
The teachers walked out of the gate and refused to entertain the officers, which included the Criminal Investigation Department. They told them point-blank that they did not want to be addressed by the police but by SNAT.
"Teachers who are inside classrooms doing their job should not be forcefully ordered to abandon classes.
"It is their right. If they wanted to join you they would have," Ngcamphalala was heard saying while trying to address some of the teachers, on the main road.
St Theresa's principal threatened, releases pupils
MANZINI - St Theresa's High School Principal Albert Sihlongonyane said he released pupils early yesterday as he had received threats from striking SNAT members that they would vandalise the school.
"Rebuilding the school would be very expensive so I was compelled to release all the pupils today (yesterday) after receiving those threats.
"We had some teachers who went to the SNAT meeting and some stayed behind to maintain order, however lessons were affected after receiving the information that they would come to the school and damage property," Sihlongonyane said.
n Mjingo High School also found it necessary to release pupils early.
n Manzini Central Primary School pupils pelted police officers who had come to protect the school from protesting teachers with stones.
Operational Support Service Unit (OSSU) police officers, who were fully armed in riot gear chased the pupils who had pelted them with stones.
Pupils released early in Shiselweni
NHLANGANO - Pupils were released early yesterday in some schools in the Shiselweni region as teachers countrywide engaged in the endless strike action dubbed 'Waya Waya'.
The Principal of Nsongweni High School, Thembekile Mlipha, said few teachers turned up for work, hence classes were called off at noon instead of 3pm. "A few teachers turned up and we couldn't teach, hence we did our practices instead which started at noon yet we normally start practising at 3pm," said Mlipha.
Muntu Dlamini, Principal of Evelyn Baring Primary School, said "it was business as usual for us, all teachers showed up for work and our classes were normal".
The Principal of Evelyn Baring High School, Tom Dlamini, said less than 10 teachers in his school were absent, that, however, did not prevent those present from conducting lessons.
Northern Hhohho teachers beaten up, classes stopped
PIGG'S PEAK - Teachers from the Madlangempisi SNAT branch assaulted other teachers who did not want to partake in the strike.
The teachers were holding a branch meeting at Madlangemphisi Primary School.
They were concerned about the poor attendance of the meeting. According to one of the teachers, who preferred anonymity, they then resolved to force the absent teachers to join the march.
The teachers are striking for a 4.5 salary increment. Despite a court order stopping the protest, the teachers have decided that they won't go back to class until their grievances are heard.
The teacher said they first went to Nkambeni Primary School, where they found teachers in class and they then decided to enter the classrooms and disturb lessons.
Fearing for their lives, the Nkambeni teachers are said to have complied with their colleagues' orders. They then went to Sikhunyane High School to force other teachers to join the strike. The teachers who refused to join the strike were allegedly assaulted and forced to partake by their colleagues. Police from Tshaneni and Mliba arrived promptly.
Police officers are said to have tried by all means to remove pupils from the mob of angry teachers, as some pupils from Nkambeni Primary School had joined them.
The teachers danced and sang political slogans at the school's sports ground before proceeding to Madzanga Secondary School, where they continued forcing teachers out of classes.
The teacher said they found Madzanga teachers proceeding with their lessons but they had to stop when the angry teachers entered the premises. Some of the teachers reportedly joined the protest willingly. The teachers did not proceed to other schools because a lot of schools had closed for the day. However, they resolved to continue with the strike today. Principal of Sikhunyane High School, Bongani Pereira, confirmed the incident.
---
Comments
Thought u loved us but now you betraying just when we about 2 face our future, ningasifundzisa kangaka bese njekutsi ekugcineni nitodlala ngatsi kaso. Nxx! Can d government do somethn or do you want us 2 join the teachers?? Worried*Angry*
June 26, 2012, 2:00 PM, form 5 student (sizwemaphosa@gmail.com)
God has to intervene, children throwing stones at police and chanting anti-police songs, kuyamangalisa imphela.
June 26, 2012, 2:00 PM, Rapachee (msiti002@hotmail.com)
Much as I do not condone violence, I believe what they are doing is right. This is the only language understood by the tinkhundla regime. The S B rank saga was solved the same way. Lutfo & Ntuthuko said, 'Illegal, I'll take your permits.' When it turned nasty, Barney was roped in & did just what we wanted! Right now, Percy & Makhalempi are shouting, 'Irresponsible, barbaric', instead of solving the crisis before it becomes nasty. That is when Makhalempi and crew will remember that there is something called a conference table. If education is in crisis it means govt has failed! The primary school students remind me of the youth of apartheid govt of South Africa of 1976 which fought of an armed govt and it shows we are forcefully nearing democracy. If they continue like this they will get their money. Uniswa students should copy this strategy to use when visiting lutfolwakhe. Kute bantfu lengibavela buhlungu nje ngemaphoyisa nema warder lakangwane. Ngisho babona kutsi akuhambi kahle nabo lolokutelegelwako uma kutfolwa they will benefit, kute labangakwenta. Impela noma singatelegela iVAT which affects them directly bayashaya uvele ubone kutsi khona lebentiwa kona. SNAT should not be shaken. Let govt listen to the language it understands! Aluta continua!!!
June 26, 2012, 2:00 PM, Lord Anthony (anthonym198@gmail.com)
Yibambeni bothisha, that is the only language understood by tinkhundla regime.
June 26, 2012, 2:00 PM, Thetha (ndimamelet@gmail.com)
These teachers are violating the children's rights you know.At the end of the year pupils will get bad result and it will be blamed on who..y don't their representatives talk with government while they are teaching bona...This is getting out of hand government come to our rescue as parents of this children we are paying money for their education.
June 26, 2012, 2:00 PM, Nombuso Bhono khumalo (nombusok97@yahoo.com)
Hawu mine nabakitsi this is a tough one indeed. I dont condone the acts of the disgruntled, striking teachers but at the same time I understand where they are coming from. When was the last time these hardworking imparters of knowledge got an increment? Surely their anger is not misplaced. And they are the backbone of our society, the reason tsine sonkhe can read and write is bacause of these precious, patient individuals. Its really tricky because, rightfully so, some teachers want to continue teaching because of the passion they have for it- not to duggest the striking teachers are not passionate about their trade. Then again, if, because of this strike, an increment is granted, the teachers who were not part of this strike will benefit...and with the economy in ruins, only God knowa where, when and how this is going to end. Simakadze, we need you now more than ever.
June 26, 2012, 2:00 PM, Gugu Phiri (phirimrules@yahoo.co.uk)
Is thz wht we call peace.why are students affected in thz strike thng.abaphendvulwa ngani labothishela ngoba vele financial year z ova teachers shuld try next year.extenal classes wil be affected and our future will be ruined.
June 26, 2012, 2:00 PM, Lovemore619
Poll: Early Campaigning
: Do you think Rodgers Mamba is guilty of prematurely campaigning since he let MP Doward Sihlongonyane stand next to him and urge a crowd to vote for him?