I married another woman's husband knowingly - Minister Lindiwe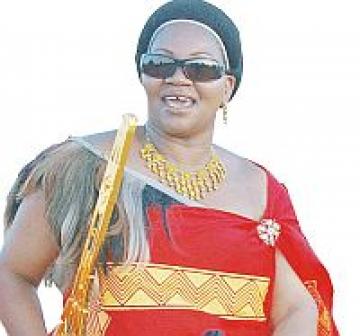 EZULWINI – Minister of Housing and Urban Development Lindiwe Dlamini has made a startling revelation of how she married another woman's husband.
The minister said she was well aware that the man she was marrying some years ago belonged to another woman, but continued to marry him anyway.
She eventually divorced him in 2001 before marrying Colonel Sisusa Dla-mini during a glittering ceremony held at Jesus Calls Worship Centre in Matsapha.
The minister was making her remarks during a breakfast meeting for business people hosted jointly by Nedbank Swaziland and the Regional Excellence and Development Initiative (REDI), the host of the annual Business Woman of the Year Awards.
The event was for career advancement and life changing experiences. Dlamini said then, she was comfortable with the fact that she had taken someone else's husband. "It took me five years to actually walk away. I was quite comfortable with the marriage, having married a wealthy man who was loving as well," she said.
The minister revealed that her former husband paid 27 cattle as dowry because 'I was beautiful'. She bore two children from her former marriage. She explained that she knew the man she married was not hers and had to let him go, adding that it was not easy doing so.
"I had two children who called him daddy, but his (other) family was falling apart. His wife was looking out there and hoping her husband would come back, but never did," she said.
The minister said she was not afraid to tell anyone about this, especially if it would make a difference to someone.
She noted that at first, making such a mistake appeared right in her eyes, adding that when she eventually walked out of the marriage, she was shattered. "I didn't know who I was. I was married to a rich man so I regarded myself as the rich man's wife, but where was Lindiwe? When I had my encounter with the Lord, I had to look for Lindiwe," she said.
She reiterated that she walked out of a 12 year marriage with two children. "I told him (former husband) that I'm at crossroads and needed to either follow you or God. I realised that he had not encountered Christ yet there will come a time when I will have to account for this life. His family fell apart and his children took each other to court because I had taken him. You must look for what is yours. I know its strange coming from me," she added.
In 2001, Dlamini said she went through a divorce with someone that she loved who had not offended her, but had to do it because she had encountered Christ.
"I walked this journey. I know how it feels like to be lonely, how you want to do something so well, but with no one to celebrate it with. At times, you just miss hearing a male voice. I know the pain of divorce, it's like death because something dies in you. I recall when I went to church and they had to introduce me and didn't know what to say, they called me Daniel's mother," Dlamini said.
The minister did not give much information about his former husband.
...Knowing Christ helped me
EZULWINI – Having accepted Jesus Christ as her saviour is what Minister Lindiwe Dlamini says helped her in life.
Speaking to businesspeople, mainly women, during a breakfast meeting hosted by the Regional Excellence and Development Initiative (REDI) yesterday, Dlamini said she wanted to tell her life story of divorce after marrying another woman's husband because she wanted to help others.
"I took someone else's husband and made him my own, but then I came to know Christ and realised that what I had was not mine. I struggled to give it back. As women, we want to destroy and pull each other down. It starts with loving yourself and then thinking of another sister. Some children are in prison or out there in streets because someone took their father away," she said.
She urged women present during the event to make quality decisions. The minister said she walked out of that marriage because she had encountered Christ.
"I just want to pull someone out of the valley. There are widows and it's not a good thing, some of you have been rejected inside your own houses, some of you have been pulled down, but you need to pick yourself up. Success comes at a price and none of our lives are balanced," she added.
'... people had expected me to marry bishop, businessman'
EZULWINI – Lindiwe Dlamini, Minister of Housing and Urban Development says people had expected her to marry a bishop or a businessman.
Soon after telling the audience about her divorce in 2001 when she had married another woman's husband, the minister said she later found her own man.
"I then married again and found my own (man). Sometimes when we go through certain things, our values are messed up. You think you are important because of money, but deep inside there is a girl crying to be loved.
You will want someone who will meet your needs. When I got married, some people were expecting me to marry a bishop, but I was already a pastor. Some were expecting a businessman, but I was already in business," she said, much to the applause of the audience.
The minister said all she needed was love and she found it.
She is now married to Colonel Sisusa Dlamini. "Sometimes it does not come in familiar packages, but when you find it, you will know this is it. You cannot go far without Christ. Some people carry tablets just to remain sane," she said.
Do you agree with Ministry of Education Director of Guidance and Counselling Lindiwe Dlamini that teachers should support gay and lesbian pupils because "so many children who are gay and lesbian fall into cracks because their teachers are ignoring th