Defiant teachers vow to strike waya waya!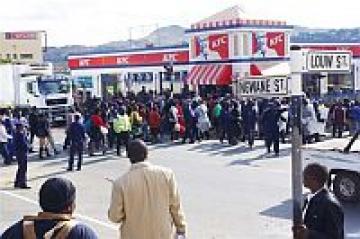 MANZINI – The Industrial Court order barring teachers from protesting was breached when they took to the streets and also forced pupils to join them in an informal protest action.
This happened after a mass meeting by the Swaziland National Association of Teachers (SNAT).
SNAT said the chaos was not sanctioned by them and only involved some of the teachers who had participated in the meeting where it had been resolved that from today they would embark on an endless strike action dubbed 'Waya Waya' to demand the 4.5 per cent increment.
After a two-hour meeting at the SNAT Centre, teachers resolved informally to invade the Manzini Central High School to garner support from their colleagues who were on duty.
The over 100 teachers broke the first gate to the school premises while dismayed pupils gathered within the school premises, about 50 metres away.
The bewildered pupils started throwing stones at the teachers telling them to depart from the school because they were not welcome. However, some of the school's teachers who were part of the rioting teachers calmed the pupils down, saying: "The teachers are not here to fight but to help you."
The pupils then dropped their stones and joined the teachers in song and dance. In the midst of this, some pupils who were taken up by the frenzy continued to throw stones and broke a window in the school. Some of the stones also fell on the roof of Mfanayana Hall.
Meanwhile, the pupils took the lead in the toyi-toyi and exited the school gates heading for the city centre. There were still no uniformed police in sight. However, after they passed Grand Valley, they were confronted by the police riot squad who were aboard a truck. The police were led by Manzini Regional Commander Musa Zwane. The pupils initially pelted the police with stones but when they saw Zwane they stopped running.
Zwane went ahead of the rest of the squad and told the pupils in no uncertain terms to retreat to school. The pupils heeded the order while teachers went past the police, walking on the pavement, heading for town. When they reached the bus rank, they also took advantage of the fact that there was no police officer in sight and started singing and dancing.
They resolved to go to St Theresa's to cause similar tension. However, police had reinforced and blocked them near Kentucky Fried Chicken, while crossing the road towards Bhunu Mall. Zwane who had speedily driven from Manzini Central arrived and ordered the teachers to stop blowing whistles and singing and some heeded the order while a few went to St Theresa's where they stood along the fence.
The school's authorities quickly closed the school and sent pupils home to avert chaos. Meanwhile, the police riot squad was on guard at the school entrance.
SNAT not responsible for damages
MANZINI – SNAT President, Sibongile Mazibuko, said the union was not responsible for the damage at the Manzini Central High School.
She alleged that some people who had been seen in the teachers' meeting forcefully removed the school gate in a quest to force other teachers to abandon work and take part in the strike. When they were inside the premises, stones were thrown and one of them broke a window in the administration offices.
"No resolution was taken to go to Manzini Central and SNAT was not informed about any broken gate or windows. On that note SNAT is not responsible for any damages whatsoever," Mazibuko said.
Police Public Relations Officer, Superintendent Wendy Hleta, confirmed that a gate and window were broken. She said no one had been arrested by yesterday, but investigations were on-going.
Irresponsible, barbaric - Percy
MANZINI - Government Spokesperson, Percy Simelane said the teachers' conduct when disturbing pupils who were in class, was barbaric.
"It is very wrong that they disturbed children who were learning. Their conduct is irresponsible and barbaric."
Simelane said the teachers were better off fighting their personal battles alone without involving gullible schoolchildren.
"We do not expect such conduct from teachers who are supposed to care for the welfare of pupils." he said.
---
Comments
It was irresponsible and barbaric for govt to take SNAT to court and try to avert the strike instead of increasing the salaries because it has a lot of money but its reserved for those born with silver spoons in their mouths who do not bring anything to the economy but only drain it . After the Satellite B. rank impasse they should have learnt from STAWU that laws are meant to be broken. I said that court order or no order operators will strike, likewise teachers will strike. Govt akakhokhe lemali bayati kutsi ikuphi.
Jun 22, 2012, 10:00 AM, Lord Anthony (anthonym198@gmail.com)
Da latter speech lacks some element of respect to mature, professional intellectuals "barbaric" yo yo yo.
Jun 22, 2012, 10:00 AM, zizilion
Percy, brace yourself for something you have never seen or heard. You are misscalculating.
Jun 22, 2012, 10:00 AM, Dlamini Sicelo (skakadza@yahoo.co.uk)
We like it or not, we avert it or not, we deny it or not, we ignore it or not.....the bottom line is " Change is coming because our government has rejected people who can influence change in society". If a teacher is angry, the only thing she or he will teach is politics and cajoling the pupils to join the struggle. If i were government, i was gonna give them what they want and deserve so that they do not teach anti Tinkhundla idealogies.
Jun 22, 2012, 10:47 AM, BROTHER LEADER DR SANELE (drsaneledlamini@yahoo.com)
Poll: Stealing Babies
Does the fact that a newborn twin was stolen from a ward at Raleigh Fitkin Memorial Hospital make you think twice about giving birth in a hospital?