I live with HIV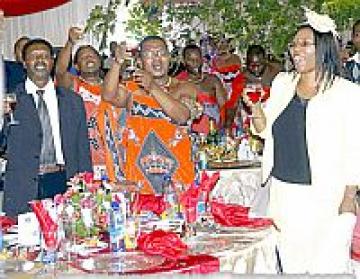 NHLANGANO – Indvuna Yenkhundla of the Shiselweni II constituency, Joel Sacolo, yesterday publicly declared that he is HIV positive.
Sacolo, who is also the Pastor of the Full Gospel Church at KaMhlanga, said he was already on Anti Retroviral Therapy (ART) and he encouraged Swazis to test and know their status.
He disclosed his HIV status at the Nhlangano Farmers Training Centre during a Community Leadership Workshop on Gender Based Violence (GBV), HIV/AIDS and Crime Prevention organised by the Nhlangano AIDS Training Information and Counselling Centre (NATICC).
He said he was not ashamed to tell the world that he had been on ART for the past two years and was still healthy and going strong.
Sacolo said most Swazis who contracted HIV/AIDS died because they deliberately defied the advise and recommendations of health practitioners after testing HIV-positive.
The participants were chiefs and headmen from the Zombodze Emuva, Maseyisini and Shiselweni II Chiefdoms and other stakeholders in these issues, such as the Nhlangano police.
"This is the first time I publicly declare that I am on ART and it is now two years. I want people to know that HIV-positive people are also human, like any other person. I challenge people to visit hospitals to test so that they know their status. Most people have died because they refused to take the medications despite being informed by doctors that they were HIV positive. I am healthy and still going strong, thanks to the pills, because they boost my immune system," he said.
Sacolo said people should not be afraid of ART because they are medication just like any other medication.
"I know many of you will be surprised today to learn that I am HIV-positive, but it comes from my heart to disclose my status because I want the ignorant Swazis out there to know that taking ARVs does not mean death," said Sacolo, who was promptly applauded by the participants.
In an interview later, the headman said his wife died in 2002 as a result of sugar diabetes.
He revealed that he once tested with a partner and the results came back negative for him while they were positive for her.
He said that they were advised to use condoms whenever engaging in sex but he did not heed the advice.
"That (using a condom) was difficult for me as it clashed with my Christian values and principles. We did another HIV test later and I tested positive. I have been taking the pills since then and I am fine with it.
My four children, grandchildren and congregation also know about my status and my message to the people of Swaziland is let us not allow ignorance and pride to kill us, but rather let us listen and take advice from doctors and health practitioners regarding our health. Today I felt it was the right time to tell the world about my status," Sacolo said.
Gender-based violence added to Shiselweni programmes
NHLANGANO - The Nhlangano AIDS Training Information and Counselling Centre (NATICC) has added Gender-based violence (GBV) to its programmes for the benefit of the people of Shiselweni.
NATICC Programmes Manager, Thabani Ndlovu, said the addition of the programme was necessitated by the increasing rate of violence and abuse against children and women.
He said cases of GBV in the region are often reported to the public via the media, but there was little that was done to assist in disseminating information or providing care to the affected parties apart from the matter being reported to the police.
Esau Dlamini, NATICC Technical Board Chairperson, spoke about how the organisation was established in 2002 to offer VCT, palliative care and HIV/AIDS services to the people of Shiselweni. One of its pioneers was Minister Benedict Xaba.
"GBV cases are on the increase in Shiselweni and there are few players (against GBV). We will continue offering the other services while on the other hand we fight GBV.
"The purpose of the workshop is to sensitise chiefs and community leaders so that they can be our 'spear' in the fight against GBV and HIV/AIDS and in heading Crime Prevention.
"This is a four-day workshop and we expect them to have an understanding of current issues relating to GBV, HIV/AIDS and crime prevention," Ndlovu said.
Meanwhile, Chief Malambule Mdluli of Mbilaneni Umphakatsi, speaking on behalf of the chiefs, appealed to chiefs in the Shiselweni region to often engage residents on issues that affect their daily lives.
He said chiefs should stop the tendency of portraying themselves as untouchables and instead should often give their subjects feedback on developmental projects taking place in their communities.
"Chiefs should act as role models to win respect from their people. They should also be educated on issues like HIV/AIDS, GBV and the prevention of crime.
There should be transparent laid-down procedures a chief and his subjects are expected to follow for the benefit of the community.
"We appreciate the effort s by NATICC in reaching the communities via chiefs in its gospel against GBV," Mdluli said.
We are proud of him, says Health Minister
NHLANGANO – The Minister of Health, Benedict Xaba, says as a constituency they are proud of Pastor Joel Sacolo for publicly declaring his HIV status.
Xaba is also the Member of Parliament for the Shiselweni II Inkhundla.
"Yes, he told me about his status and he is a role model for us in the constituency. He is a healthy man who is also a pastor and we are proud of him.
He has served under all the MPs in the constituency and last week he turned 75 years. I have organised a birthday braai for him. People should take ARVs like Babe Sacolo. He told me he will be contesting for the position of Indvuna in the upcoming national elections and I am fully behind him.
"As a ministry and a constituency we say 'bravo!' to people like Babe Sacolo and other people should learn from him," Minister Xaba said.
---
Comments
Empeleni sekute sikhatsi sekukhamisa sibeloku simele bantfu kutsi basitjele ngesimo sabo. Labanye babhizi bakhomba bantfu ngenhloko. Hhe yebekunene bahambile and basatawuhamba bantfu lebasakhamisele kuva tindzaba talabanye ngeHIV. Umuntfu loserious ngemphilo akahlole aphindze atisise simo sakhe ngaleligciwane. Nyalo litiko letemphilo kunekutsi lidlale ngemali solo liphekufundzisa bantfu ngeHIV alisale lakha ema-research institutions etfu lapha eveni lapho sitowati kabanti ngaleHIV sitisitana sodvwa simaswati kutfola imitsi letawucondza ngco kilo bekunene. Sibonge ndvunayenkhundla. Litiko ake sekuvukwe majaha lapho sesive kutsi nine nilitiko natotonkhe tingcweti tetemphilo eveni kutsi nibuke natfolani nimaswati mayelana naleligciwane sitsi sihamba embili nje ngekufa kepha sibe bekucala labatawutfola kwatana kabanti naleligciwane nekutsi tsine simaswati sitfole kutsi lingetanywa njani sitjele umhlaba bekunene, hhayi lentfo lechubekako lapho ekhaya bantfu sebatfole indlangayo ngaleligciwane netintsandzane.
Jun 6, 2012, 7:32 AM, TY (mabaso.timothy@gmail.com)
Are you sure he is not diabetic. Often people make a mistake and mix up the two.
Jun 6, 2012, 7:32 AM, bhekie gama (bhekiesimon@gmail.com)
I commend him for publicly declaring his HIV status, it is very important. However, there is a chance He was motivating the audience.
Jun 6, 2012, 1:29 PM, Cultural (swazihut@live.com)
Do you agree with Save the Children that the man who 'married' a 14-year-old should have received a harsher sentence than two years, suspended for three years (with the option of a E2 000 fine)?