MP Mabhanisi helps cops arrest brother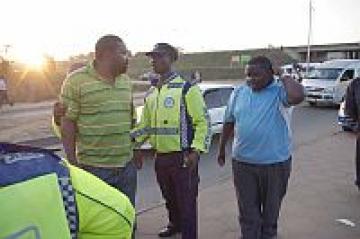 MATSAPHA – Kwaluseni Member of Parliament (MP)Sibusiso 'Mabhanisi' Dlamini yesterday afternoon helped police officer arrest his brother for alleged drink driving after he had resisted.
The MP begged Phumlani who is also a soldier to surrender to the police who caught him allegedly drinking alcohol while driving a Ford Focus at ka-Ndlunganye.
Police first tried to stop Phumlani at the intersection leading to the Matsapha International Airport, however he did not stop.
They then asked for backup and Phumlani was eventually stopped at Ndlunganye.
When the police approached him as they wanted to check the alcohol limit in his body, he allegedly refused. It is then that the police made an attempt to arrest him.
Phumlani said he would not go into the police vehicle.
The three police officers tried to use minimum force demanding that he goes into the police vehicle.
It is then that the MP, who was passing by, saw his brother being manhandled by the police.
He stopped to try and get an explanation from the officers. After the MP had been informed about what had happened, he then began to beg his brother to listen to the police and follow instructions.
At first, Phumlani did not want to listen to the MP saying he did not understand why the police officers wanted to arrest him.
The MP begged his brother asking him to listen to all what the police were telling him to do. As this happened, three soldiers who provided security near the Logoba bus stop tried to negotiate with the police officers after informing them that he was a soldier but their negotiations failed as the officers said Phumlani had allegedly committed a crime.
The MP's efforts of begging his brother were successful as Phumlani eventually agreed to enter the police vehicle.
The MP told the Times SUNDAY that he only wanted his brother to take orders from the police.
"At first he was resisting but he eventually listened to me," he said.
"I will follow him to the police station to here if he will be charged or not.
Assistant Superintendent Stephen Dlamini, Police Deputy PRO, confirmed Phumlani's arrest saying among other charges he had been charged with were the one of driving a vehicle while under the influence of alcohol.
How much are you planning to spend on Christmas gifts and festivities this year?